Oh, so relaxing! We slept in today, had a simple breakfast of fruit and coffee while sitting on our balcony chatting. While I worked a little more on figuring out WordPress, Jeff fired up Duolingo on his IPad to practice his Spanish.
Today's agenda is simple: we're going to wander the Strip a little more. It is 1'o'clock before we gather our "expedition" stuff and leave the condo. Have you seen a cupcake ATM? We pass this one regularly…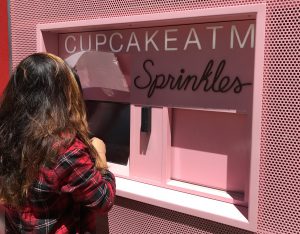 I pick our sightseeing and I choose Ceasar's Palace. We'll walk over, see the decor, check out the classic 'Atlantis' fountain show and hang out a bit. If you've ever wondered what happened to the mysterious land of Atlantis the answer can be found at Ceasar's Palace in Las Vegas! Though it isn't a long walk (by Vegas standards) we are hot by the time we get there and the air conditioning feels great (and I HATE air conditioning)!
The public seating areas are fun. This is a photo of the back of a chair.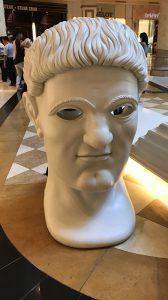 The other side is the chair; you can really get into somebody's head. LOL
There are so many designers, high priced shops not just in this "Forum Shops" area of Ceasar's, but throughout Vegas, and we wonder how they all stay in business, how well they do and who the heck shops in them?! I guess for some people that shopping is the reason to visit Las Vegas. We walk past all the shops to the Atlantis fountain area. I had forgotten that there is an aquarium here – it is well done – a circular aquarium surrounded by a seating bench. Since we have about 20 minutes before the next show we watch the wide variety of sea life and snap some photos.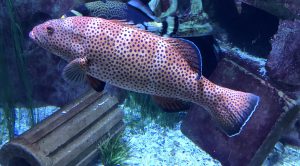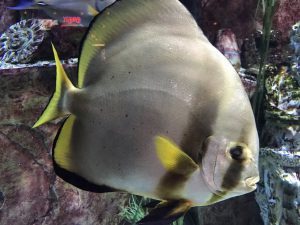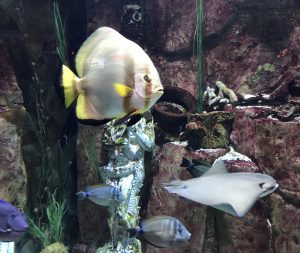 The Atlantis show begins and we, along with a large crowd, enjoy the animatronic king (whom I assume is Neptune) try to decide if his daughter or son should assume the throne. The daughter (water) and son (fire) get along like, well, fire and water. Rather than have them feuding, the king decides that Atlantis will be destroyed by fire and will sink into the ocean – which happens before our eyes.
So, now you know what happened to the Lost City of Atlantis!
We've spent a good two hours hanging out at Ceasar's and decide to head by home. On our way back we notice a novelty shop, a political novelty shop and, of course, we have to check it out. The store is "balanced" with merchandise for/against Trump and Clinton, and there are some supportive Obama shirts. There were at least three t-shirts of varying degrees of inflammatory-ness that I wanted. I finally chose a "Make America Kind Again" shirt, figuring who can argue with that sentiment?
Back at the condo we walk over to the complex's Activities Center. I had noticed several shelves of donated (or left behind) paperbacks and want to pick up some vacation reading. I got a couple of books and Jeff picked up a Phase 10 card game. Treasures in hand we go back to the condo where Jeff ops to take a nap while I change into my swimsuit, grab a towel, sunglasses, water, one of the books and go down to the pool. Aaahhh… Now the sun has set and I realize I'm starving. I pack up my pool stuff; we've not eaten since breakfast – time to remedy that.
We walk back to the Strip, walk down quite a ways to the Rainforest Cafe for dinner not because it is high on our list of 'great' restaurants but because in Vegas it has second floor outdoor balcony seating overlooking the Strip. Great view! After our late dinner, we stop and wait to see the Bellagio fountains. The fountains danced to Michael Jackson's song "Billie Jean" and the show was GREAT. The fountains and the timing of the music were amazing; we've seen the fountains about a thousand times, but never a show this good. It was a wonderful way to end the day and after a long walk we're ready for bed.
Hope to see you tomorrow (we're going to do something special).