Kansas City, MO
March 29th
We are in Kansas City, Missouri. Got to our hotel last night around 11 pm, pooped and ready to drop.
Happily the hotel's shuttle driver was at the airport to pick us up right away and the Holiday Inn was maybe 5 minutes from the airport. When we checked in, Sydney, the young night clerk was making origami cats for all the drunk dart players hanging out in the lobby. Apparently there was a big state dart tournament today.
Sydney listens to our tale of woe and when I ask, she very nicely offers us a 1 pm checkout and free breakfast. Yippee! Our flight from Kansas City to Albuquerque isn't until 4 pm, so that 1'o'clock checkout is great.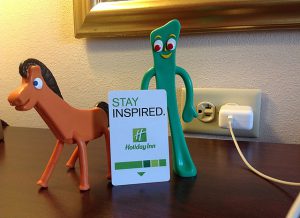 Pokey and Gumby are always up for an adventure and here they are hanging out in our room.
As I am writing this, Jeff has gone for a walk. This hotel is next door to a convention center and there is a train and toy conference going on. He returns with several matchbox cars for Zeph, our 3-year-old grandson.
Finally, time for the shuttle to the airport. We have about 90 minutes to wait and a flight announcement comes on telling those of us making a connecting flight in Denver not to worry. They have put a "legal hold" on our connecting flight and it won't leave Albuquerque until we are on it! There are six of us not only in this same flight pattern having been shuttled from Fort Lauderdale to Kansas to Albuquerque, but all six of us are also from the same boat! Literally.
Time to go…