Lihue, HI
They are really big on Farmer's Markets here on Kauai. When we checked in yesterday we were given a list of them – one for every day of the week. Holy mackerel.
After a quick breakfast of cereal and coffee, we set out. This farmer's market is in the parking lot of Kauai Community Colleges, and not only are there a lot of people selling, there are a lot of people buying. Happily I remembered to bring a reusable bag with us from Colorado and have it today.
There are fruits, flowers, veggies, local coffee, food trucks and a humane society tent. There are handmade jewelry tents, a woman weaving palm fronds into gorgeous baskets, local honey and eggs. Organic, non GMO and "picked this morning"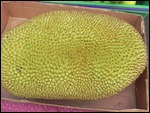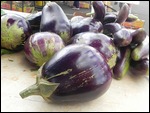 Do you know what the fruit below is?
If you are the first person to comment with the correct answer, I will bring you some Kauai Kookies (the cookies are very good – I've already eaten two bags of them!).
Need more of a clue? Here is a photo of this fruit, sliced open.
We spent a lot of time at the farmer's market.Here is a photo of our flowers ($2!) and some of the fruit we bought.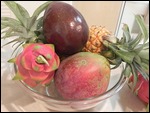 After loading all our goodies back into the car we drove around the island for a couple of hours. The scenery is beautiful…. Oh, and we found a WalMart – I'm excited as they usually have postcards and souvenirs less expensively than the tourist shops. We'll stop there another time. Eventually we made our way back home, unpacked our treasures and headed out for a walk on the beach.
The water is so rough on this side, but it makes for spectacular scenery. We walk quite a long way and back again.
We make a nice salad with lots of fresh ingredients and eat out on the lanai listening to the surf and the birds.
Heading to bed early because we have a big day planned for tomorrow and have to get an early start. Until then…