Holy crow! We slept until 10:30. I think not only were we very tired when we went to bed, but we are starting to relax. First things first, coffee. Unlike many of my friends, I don't mind hotel room coffee…caffeine is caffeine.
Once we're a bit more awake and ready to go, Jeff and I head out to find food. With no destination in mind we walk several blocks up the hill from our hotel, then over a block and down the next street. We find the "San Pedro Cafe." which turns out to be a gem!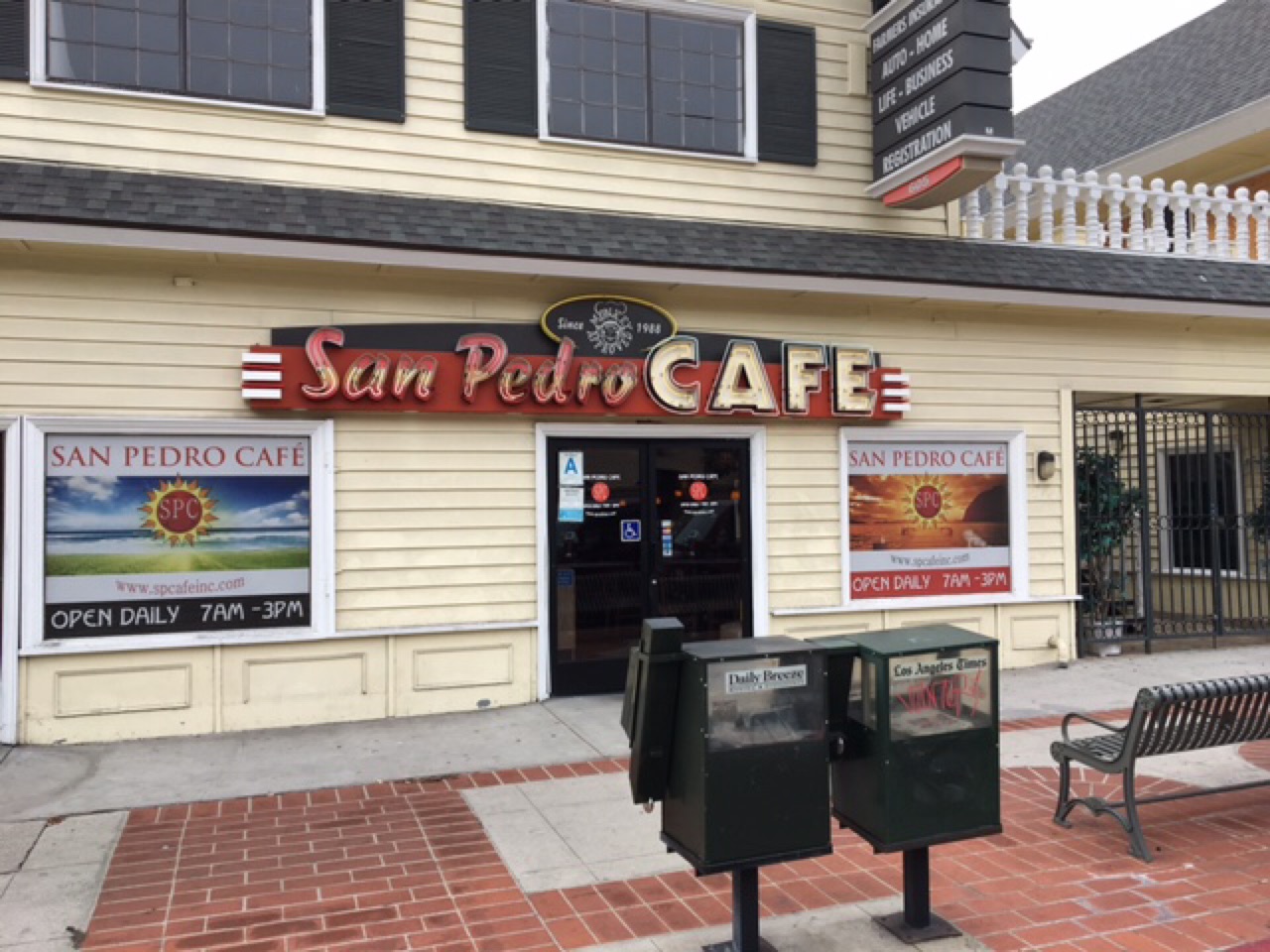 We can tell it is a local place because people greet the waitress by name and it has a neighborhood feel about it.
Jeff ordered the vegie scramble with sliced tomatoes and I had the same thing but with a fruit cup. We both ordered sourdough corn rye bread. We ordered that toast because it sounded so different and interesting. The toast arrived first; two slices, the size of Texas toast, and it was really good! I could easily have made a breakfast of toast alone. The vegie scrambles were great as was the coffee.
What a wonderful find!
Before we left the restaurant we asked the waitress where we could buy some flowers. Her answer was "next door." Haha! We hadn't even noticed the florist's shop. We went in…there was no one there. "Hello?" "Hello?" No answer. I walked through the staff area in the back and saw the back door was open. There was a young woman sitting in her van talking on her phone. We just left.
Next idea was to find a grocery store as they usually have small bouquets of flowers available. The only store we found was the "Numero Uno Mercado" and all of a sudden I felt like I was in Costa Rica. All of the store signs and labels on the groceries were in Spanish; the meat counter was amazing. No flowers here.
Well, we'll pick them up in Puerta Vallarta when the cruise ship docks there on Saturday.
Walking back to the hotel we pass the San Pedro Visitor's Center and a rack of postcards catches my eye so we go in. I get two cards and the guy manning the desk was flummoxed. First, he didn't know if they sold stamps and second he didn't know how much the postcards cost. I teased him, asking "And they left YOU in charge??" His job was really sales – getting local businesses to participate in the Visitor's Center – and he called someone about the stamps and cards. They didn't sell stamps but he told us that we could buy them at the only privately owned post office in America. The post office is run by some sort of non-profit and, he told us, it is in a wonderful old house. Very quaint.
Well, we walked according, we thought, to his directions, but eventually gave up trying to find the little post office and returned to the hotel.
During the walk back my tummy is starting to grumble and I feel "not great."
After dropping the postcards off at the hotel, and taking some Imodium (me), Jeff and I decide to walk down to the cruise terminal. This is where we'll be getting on our ship tomorrow. It is an easy, pleasant walk and the cruise terminal is almost exactly 1/2 mile from our hotel. If we didn't have our big suitcase, we could easily walk to the ship.
In the little park next to the terminal there are dancing water fountains, like at the Bellagio casino in Las Vegas. Jets of water spray and dance along to recorded music. As we started back to the hotel, the fountain came on and we sat to watch…
Today Eve and Leroy toured the Maritime Museum here in San Pedro and said it was very worthwhile and it would take more than a day to see it properly. Mary spent the day relaxing and reading.
Trish has arrived at the hotel and now all six of the intrepid travellers have gathered in our suite. Eve and I are cuddled up on the bed being silly. We all talk about to going to dinner and discuss tomorrow's embarkation.
While everyone else goes to the San Pedro Brewing Company for dinner (my tummy is still unhappy so I stay behind) I call to arrange transport for six people and their luggage for 10:45am tomorrow morning. The taxi company will send two cabs – one for us and one for our luggage. They'll text when they are on their way and again when they arrive. Perfect. We won't have to deal with the hotel shuttle to the pier – there is always a scrum at the door. This will be much better.
Jeff is back from dinner carrying two bottles of wine for the cruise and a "Cup of Noodles" for me. What a great guy! Those noodles were just right.
Despite getting up late, it feels like it was a long day.
Time for bed – tomorrow the adventure begins!