Charlotte Amalie, Virgin Islands US
Saturday, March 22nd
St. Thomas
Here we are back in St. Thomas and already, first thing this morning, it a better stop than last week because 1) the ship's thrusters are working and we can walk off the boat and 2) the sun is shining! Wheee!
We have anchored in Crown Bay – which is not where we tendered in last week. Last week we went into Charlotte Amelia, but our ship is too large to dock there.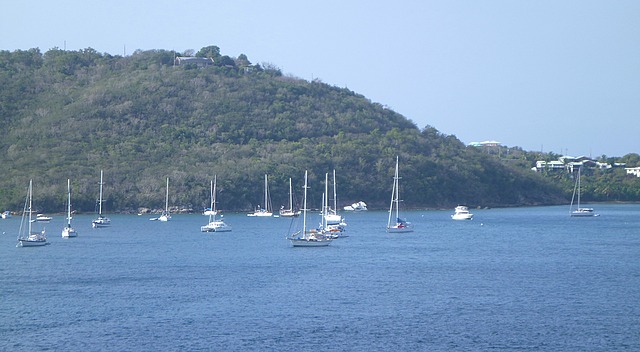 There are a lot of smaller boats in Crown Bay and it is one of the prettiest places we've been.
We left the ship around 9:30 and shared a taxi with a couple from Switzerland to Coki Beach to snorkel. The couple, Rossana and Reto, seem pretty cool – I think they are about our age. She is carrying a good camera and taking a LOT of photos from the taxi van.
Coki beach is crowded with locals (it's Saturday) and plenty of tourists as well.
There are beach umbrellas, lounge chairs (both of which we rent for the day), loud music and a lot going on. A very vibrant, colorful beach. The "R's" as we call Rossana and Reto (they call us the "Js") walk down the beach but we know we'll catch up to them later as the four of us arranged with Helen, the taxi driver, to come pick us up at 2:30.
Wow! The snorkeling here is good. On the right side of the beach there is an area filled with sergeant majors and similar sized fish.
One local tells us that if we swim further on there are often turtles feeding on the sea grass. Unfortunately we aren't that lucky. We make our way to the other side of the beach. Two people have told us there are larger fish and nice corals on that side – and both of those people also told us that there was a strong current. The snorkeling is excellent and the coral is good – there are some beautiful stands of elk horn coral and a good variety of fish. Some large parrot fish.
And there is definitely a STRONG current as we try to get back to shore. We swim and kicked really hard. I grab Jeff's elbow and guide us to a rocky spot so we can get into that area to rest. Unfortunately a surge pushes him right into the rocks cutting his hands and one of his shins. I feel terrible. I know that abrasions like that don't feel very good in salt water.
We relax on our lounges – very happy to have the shade of the umbrellas.
Too soon, the Rs find us and we walk off the beach. There is Helen waiting for us. Jeff asks Rossana and Reto what they think of asking Helen to drive us around the island a bit instead of just going back to the ship. They think it's a great idea – we're liking them more and more!
Helen takes us around to Red Hook Bay where the ferries leave for St. John, then on to a wonderful overlook with a good view of Megan's Bay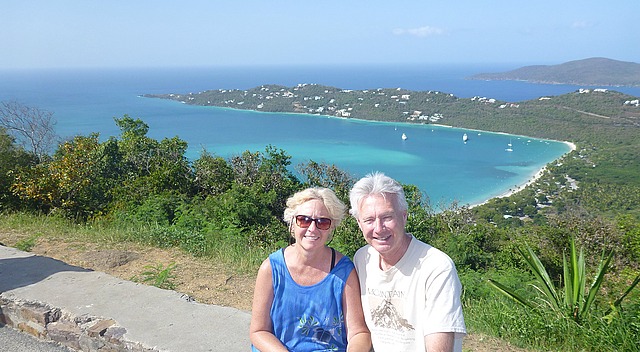 and later another area with a view of the city. Since we haven't really arranged a "tour" with Helen, she doesn't have a set price. The ride to the beach, sightseeing around the island with tip costs us only $50 and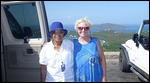 since it was just the four of us the ride was comfy, uncrowded and the company was good.
Back on board we get cleaned up – washing off the salt water, rinsing our suits. It was a marvelous and relaxing day…and we might have made some friends.
Tonight we went to the early "Movie Under the Stars" which was showing 'Gravity.' We've seen that movie already but it seemed a good one to watch outdoors under the stars while munching popcorn. We picked the early movie so we could catch the show in the Princess Theater later. That show was the "Unexpected Boys- Oh, What a Night", a tribute to the Four Seasons and it was quite enjoyable.
The stars tonight are bright and just beautiful…but we're tired from our struggle against the current swim and head to bed…