Sunday, September 22, 2019 : San Pedro, CA
This morning we sleep in a little. We've decided not to join what is usually a wild, crowded scrum to get to the cruise port as early as possible, and for the first time we will just go later in the morning or early afternoon.
But first, my package. After a quick shower, and a cup of hotel room coffee, I am fortified. While Jeff gets cleaned up, I head down to the lobby. When I get to the front desk, I ask for the manager. (Darn! I can't remember her name.) The woman says she can help me, and I start to explain. I ask if she got the explanatory note from her staff last night. Apparently not. I am not pleased and as I start to explain she says, "Let me check into your package…" and I interrupt, "NO! I can tell you ALL about my package." and I relate the entire saga. She asks, "How do you know it was delivered?" Resisting the urge to reach across the counter and throttle her, I say, "Because I just told you not only were the tracking numbers of both packages recorded on your log, but we also know who signed for them." Then she says, "Let me talk to my supervisor…" Okay, that was the last straw. Now, I'm angry. "I TOLD you that's who I wanted to talk to in the first place!" She scurries off and returns with a very nice young woman, who has indeed received the note, and is already fully briefed on my complaint. She is well-versed in customer service (and has probably already looked me up to see that I am at the highest reward tier in this company). I show her my Amazon receipt, she refunds my money for the purchase and then arranges for the head bellman to drive us to CVS, wait for us, and drive us back. Good call. Jeff and I get into our private shuttle bus. Well, this is going to be more expensive than a $30 bottle of sunscreen, because we had quickly made a list of difficult-to-find-in-Costa-Rica items that we might pick up. $156 later we get back into the van!
Time for breakfast. We walk up to a lovely coffee shop that we discovered last time – Sirens.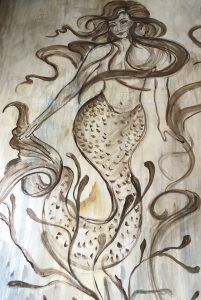 Oh so good coffee and a lemon poppyseed muffin for me and a blueberry muffin for Jeff. This, also, is a local place. There is a little family, old and young couples, and a relaxed, enjoyable atmosphere. And they have the perfect sign on their counter…
Back to the hotel, we figure out how to get our CVS purchases into our suitcase. Happily there is plenty of room in our backpacks as well. Nothing is very large, there's just a lot of little stuff to shove into nooks and crannies; a lot of this we won't use before we get home but we remove all the packaging to save space.
Since it is Sunday, and we know the Denver Broncos are playing early, I turn the game on and lay on the bed to watch. As is our norm, we text back and forth with Tom Delaney during the game, mourning the lousy plays (way too many) and celebrating the good plays (what very few there were). The Broncos get pummeled, we commiserate with Tom, and say "bye" as it is time to head for the Island Princess.
Jeff and I are the only people on the shuttle to the ship and when we arrive at the cavernous check-in area we are the only people there as well. Wow! This sure beats the big crowds and hours of sitting on hard chairs waiting to board. As we go through security, we bypass the alcohol check-in station with our two bottles of wine. No one even asks us about alcohol. And we are very quickly on board and in our cabin. That was fast!!
Our cabin is the last one on our deck at the back of the ship, and we are thrilled when we open the curtains and see our balcony.
It is a little longer than usual and curves around the back of the ship a little giving us a much wider viewing area than a normal balcony. It is also covered so we are protected from the afternoon sun and any rain. Hooray!
Our suitcase hasn't been delivered to our room yet, so we unpack our backpacks, putting stuff into their "usual" spots. Then we go through the list of free amenities we've received for the cruise. Let's see, there will be: chocolate covered strawberries; a bottle of wine; an evening's dining in one of the specialty restaurants; and a special champagne breakfast delivered to our balcony. Doesn't that all sound nice? A knock at the door and in comes Rodolfo, our room steward, with our welcome aboard glasses of champagne. We'll save those for later.
We attend the safety drill that is required of all passengers. Our safe area, where we will gather in an emergency, is the gym. I whisper to Jeff that I would prefer a room that was NOT filled with heavy machines and free weights! The safety briefing takes about 30 minutes, not long for something that may save your life.
Back in our room, not only has our suitcase has arrived, but also the chocolate covered strawberries. We quickly unpack, slide the suitcase under the bed for storage, and get ready to to sail away. Standing on our deck, champagne glasses and strawberries in hand, we wave goodbye to Los Angeles.