Bonaire
Tuesday, March 25th
Bonaire
We are taking a Princess excursion today – we've never been to Bonaire before and need to spend some of this cabin credit we've built up. Before our excursion, we walk our normal 5 miles then have a small breakfast.
Our excursion is to Klein Bonaire, a very very small slip of land adjacent to Bonaire and accessible only by water taxi. We've read and have been told that there are NO facilities and very little shade on Klein Bonaire so we were leery of taking the trip on our own and are happy about the excursion.
The water taxi is a family owned business that does a lot of cruise ship work and operates almost every day of the year.
During the short ride to the island, they tell us the best areas for snorkeling – since almost all of the waters around Bonaire are a marine park and heavily protected, it would be hard to go wrong. Also, the water taxi family has a very small shelter tent set up and we are free to leave our stuff there in the shade with them. They also have brought complimentary water, sodas and rum punch – perfect!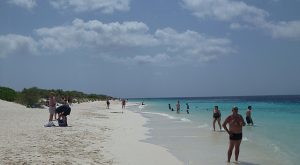 Following their directions we walked a ways up shore and then got in.
It was difficult to find a spot to get into deeper water because the coral reef is RIGHT there!
We held our breath, floated over a section of submerged reef and had the most fantastic, incredible snorkeling EVER!!
As we kicked toward shore we spotted a juvenile barracuda just hanging out obviously not bothered by boats or humans.
After snorkeling we sat in the sun on our towels enjoying the rum punch, listening to Jimmy Buffet on our little speaker and watching the city water taxi come and go. We note how frequently it runs and that you can buy beer from it!
I can't even describe how wonderful the fish and coral are here.
Too soon it was time to head back to the cruise ship. What a truly wonderful day!!
Back in the cabin we're unpacking our gear. Hmmm…where is my driver's license? It isn't in travel safe where we put it this morning, not in the snorkel bag, not in the beach bag, we both have empty pockets, it isn't under the bed or in the room safe. Oops…I've lost my driver's license (actually, Jeff has lost my driver's license, but I'm not pointing fingers!)
Oh well, my passport is safely stowed away so I can prove my identity if necessary.
At dinner tonight we sit with a couple who had done a different excursion to Klein Bonaire this afternoon. He said it was really bad and really good. The really bad part was they were there in the afternoon (so were we) and got overrun with jellyfish while snorkeling. It was very bad and a lot of people had multiple stings and welts. The good part was that they were then overrun with turtles eating the jellyfish! He said it was incredible. I'm so happy that we didn't go on that excursion, as much as I want to see turtles, I've been stung by jellyfish and it is not pleasant.
Another couple at our table, Roland and Nadine from Canada, had taken a luxury yacht excursion. Jeff and I had looked at that one, but since only 8 people could go we were a little leery of spending the whole afternoon in such small company. Nadine said it was absolutely wonderful, and had we known Roland and Nadine then, we definitely would have enjoyed their company for the afternoon.
Bonaire has been our very, very favorite for snorkeling and coral. We will definitely be vacationing here sometime…