St. John's , Antigua and Barbuda
Wednesday, March 12, 2014
Antigua, West Indies
Our first port day is a stop in Antigua. Antigua is the largest of the British Leeward Islands. Together with its sister island, Barbuda, they are an independent nation and are part of the British Commonwealth. Antigua was under British control from 1667 until it's independence in 1981.
We have never been here before and despite the fact that Antigua advertises 365 beaches,one for every day of the year, decided that instead of snorkeling we will go to historic Nelson's Dockyard.
After breakfast we went ashore and got a cab to the Dockyard.
Nelson's Dockyard is the world's only Gregorian dockyard still in use. English Harbour is landlocked which was a great advantage to the British navy and they began using the area in 1704. In 1784, Horatio Nelson sailed in on the HMS Boreas to serve as captain of the Leeward Island Station.
The dockyard fell to ruin when the British Navy abandoned the station in 1889. Restoration started in 1951 and it reopened as Nelson's Dockyard in 1961.
This was a great site! The buildings were are clearly marked as to their function and descriptions of activities carried out in the dockyard were very interesting.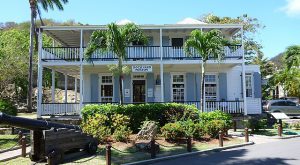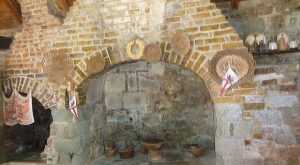 Since the dockyard is still in use there were a number of ocean-going yachts anchored along the dock front. It was fun for me to look at those and imagine from where they might have sailed. The Dockyard is also the headquarters for an annual Sailing Week Regatta hosting sailboats from all over the world.
Jeff and I spent several (hot) hours in the Dockyard. We had read that there were some nature trails in the area so we got directions to one of those. We hiked up a bluff and could look down on the harbor on one side and ocean on the other.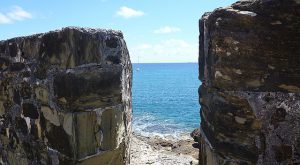 We went passed a building that housed the garrison's munitions and along a wall with cutouts for the cannons to be rolled into.
The sites, hiking and wonderful views made for a great day…and a beautiful evening.