Fort Lauderdale, FL
March 9, 2014
It's cruise day! We cannot embark until around noon, so we go for a walk. We go up to the water taxi stand to pick up a schedule as we might want to take the water taxi tour when we return to Fort Lauderdale in 10 days. Then we walk over the bridge to take some photos of the ships in port. Yikes! With bells clanging and railroad crossing gates coming down we realize we want to be on the OTHER side of this drawbridge and we scurry across.
Embarkation day can be stressful or not – I think so much depends on your attitude. We get a taxi from the hotel – ordered it at 9 this morning to pick us up at the hotel at noon. There is a scrum at the taxi stand every time a taxi pulls in, but we are relaxed knowing the cabby has our name. There is a woman trying to flag down a cab off the street, one pulls in, the cab driver has a name (not ours) but the flagger's husband insists that since his wife flagged the cab down it is theirs. Cab driver calls a name, picks up his fare. The flagger woman returns to the curb. Slow learner…
We ride to port which is about a 5 minute walk but it takes 15 minutes by taxi because of all of the traffic. There are 8 boats in port!! Our boat is at berth 4 which we noticed because Princess is always at berth 2. Busy port today.
This will be our 8th cruise on Princess. We are Platinum members and get expedited everything. Go through security, fill out the health questionnaire, register our 2 bottles of wine, pick up our room key cards, get in line to board, have our embarkation photo taken and finally here we are!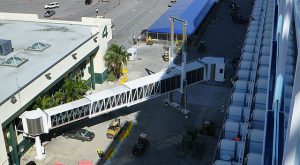 This is our first cruise on the "Emerald Princess" but we've been on the Golden and the Sapphire; these all have the same layout so we already know where the restaurants, pools, bars, theater are and since we always get a mini-suite, unpacking is a snap. Electronics go in this drawer, sunglasses always go here..that sort of thing.
Because we get on the boat and are unpacked so early in the day it feels as though we get an extra day of cruising. We sit out on our balcony watching foodstuffs and other supplies being loaded.
For lunch we both had vegetable curry and a very nice garbanzo soup. I have been a vegan for the past year and I know the cruise will be a challenge, but this lunch is perfect.
3:15 – time for the safety drill. We gather up our life jackets and meet 500+ others gathered at our muster station. Happily people take this drill seriously. It takes only 30 minutes or so and who knows?
Cast off is at 4 pm. There is always a big sail-away party and we head to the top of the ship to wave at no one in particular on shore. The party is in full swing…drinking, music, lots of photos being taken. Then, an announcement from the Captain. Because we are not at our usual berth there has been some difficulty loading the luggage. We will not be underway for another hour. No one really cares. We watch 3 other cruise ships sail away before us. As the Royal Princess leaves port instead of the usual 3 long low loud blasts on the horn she booms out the theme from the Love Boat. It is a hoot! For those of you too young to remember, the original Love Boat was called the Royal Princess. To say she's had a makeover is a gross understatement.
Finally we are underway! I am so looking forward to this vacation.
On selected evenings Elite and Platinum passengers are treated to private pre-dinner hors d'oeuvres and drink specials. We head up to the very tippy top at the back of the ship, Skywalker's Lounge, for margaritas and fresh guacamole. These pre-dinner snacks also includes lots of fresh veggies, olives, cheese and fancy breads. This was our dinner tonight. Jeff and I both lost weight on our last cruise because we ate healthy and exercised a lot. On this trip our plan is to not GAIN weight which may be tough for 20 days. Everything you've heard about the availability, quantity and yummieness of cruise ship food is true!
There are so many things to do on board and we finally decide to watch a 'Movie Under the Stars'. Tonight's movie is "Thor: The Dark World". Perfect mindless entertainment! We lay on cushy lounges, covering ourselves with little tartan blankets as it is windy here at the top of the ship, eating popcorn and chocolate chip cookies.
Jeff's favorite part of any cruise is standing at our balcony railing at night, enjoying a glass of wine, watching the waves and looking at the stars. I go to bed while he communes with the universe.