Basseterre, Saint Kitts and Nevis
Monday, March 10th
At Sea
Last night we sailed through the Straits of Florida, past Great Isaac Island into the Northwest Providence Channel and past Great Stirrup Cay (pronounced "key") in the Bahamas.
Today is a day at sea and days at seas are probably our favorite part of cruising. They are sooo relaxing. The gentle ocean swells rocked us to sleep (seriously) and we didn't wake up until after 10 am. Glorious!
Jeff went up to the buffet for coffee, yogurt and fruit and we had breakfast on our balcony.  We are almost directly below the Bridge at the very front of the ship. Check out these huge windshield wipers!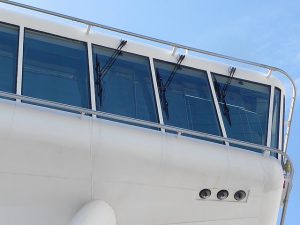 This afternoon we walked 5 miles which is 15 laps around the Promenade deck. While walking I spotted a whale off in the distance. We called to people along the deck and they rushed to the railing. Several saw the whale too. It totally messed up our "time" for our walk. We try to maintain a certain pace, but hey, when you spot a whale you really should stop!
Went to the Internet Cafe to set up our accounts. As Platinum members we get 250 minutes each for free, then to the library to pick up the daily SuDuKo puzzles and I checked out Amy Tan's "Saving Fish From Drowning" to read.
Dinner was delicious. We both ordered the same thing: Watermelon lichee ginger appetizer, spinach gazpacho soup and tilapia with roasted potatoes and bak choi
Tonight's 'Movie Under the Stars' is "Captain Phillips" which I think is kind of a weird movie to show on a ship as it is about Somali pirates high jacking a cargo ship for ransom. The movie was excellent as were the 4 bags of popcorn each we ate. Hey, it was good popcorn!