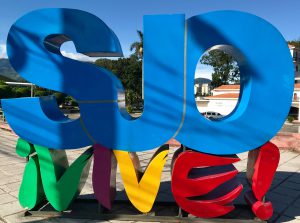 Because we are in San Jose specifically to attend our "ex-pat 101" seminar this Thursday and Friday, and because we haven't rented a car, we're thinking it would be a good idea to walk to the ARCR (Association of Residents of Costa Rica) offices where the seminar will be held. We want an idea of how far and how long our trek will be.
After a quick breakfast of coffee and cereal, Jeff checks the location on his phone. Hang on… This shows that our condo is a lot further from ARCR than we thought, like a long cab ride further. But then we realize Jeff entered the address the condo owner gave us where the calle/avenida's were backwards. Correcting that error, we see that ARCR is indeed within walking distance (about a mile), and off we go.
Any research you do on San Jose, Costa Rica, will tell you it is a high crime city with lots of pick-pocketing and non-violent mugging. In my mind, that sounds pretty much like any major city in the US, still we are careful to put our money and ids in zippered pockets. Of course we stand out as gringos, but we walk purposefully and I don't think we put off that "we're clueless tourists" vibe. Well, considering the amount of international traveling we do, I sure hope we don't give off that vibe!
Our walk is along a busy street which is easily crossed on  a long, steel pedestrian bridge accessed by about a million steep steps up and a million steep steps down. Along the walk we pass the National Art Museum, a small unassuming building along the side of the road. This little building and the surrounding area used to be San Jose Airport. It was teensy.
Our walk takes us around La Sabana, a large, beautiful park. Think of it as the Costa Rican equivalent of NY's Central Park. There are people strolling, running, using the exercise equipment in the park and makes the area so vibrant.
A turn down a side street takes us to the ARCR offices. We go into the building and introduce ourselves. "We wanted to walk down to see how long it would take so we aren't late for the seminar on Thursday." We tell the receptionist. "Oh, the meeting isn't held here," she responds with a cheery smile. "It will be at the Palmares Hotel." I did NOT say, "Are you kidding me???" but I sure wanted to.  She takes us to meet the meeting organizer so we can pay our registration and officially get all the details. At least now we know. Turns out the hotel is only 4-5 blocks from the ARCR offices. Jeff and I pay our registrations, look around the office where I'm pleased to see a free member library. Leaving there we look at each other. "Okay, lets go find the Hotel Palmares," Jeff says. I jam my hat back onto my sweaty head and we start out. It is an easy walk and we both sigh with happiness when we get there and feel the air conditioning.
Our return to the condo, retracing our steps, around the park, over the pedestrian bridge (like a giant stair stepper over a 4-lane highway), and back up the hill to the condo. Golly it's hot!
Jeff has a response from the guy, Roy, who is the owner of the cabin we might be interested in.  He and Jeff have a couple of messages back and forth. We're hoping he can accommodate our timing and he does allow pets! (I'm not going anywhere with my Rufus-kitty.)
Tonight's dinner is spaghetti with one of those cute little sauce packets. Very tasty!  We hang out…Jeff looks some more at la puerta del cielo and I read.
After our hot walk, we go to sleep early.