This morning as we are enjoying our coffee we talk about what we want to do today. We go online and search "Top 10 things to do in San Jose, Costa Rica"  where we discover there is an event every Tuesday (today!) at the Teatro Nacional at noon. We had planned to visit the National Theater and here is a great opportunity.  We need to hurry though because it is a 35-40 minute walk to downtown. Snarfing down a quick breakfast of toast and coffee, we grab our phones (i.e. cameras), umbrella, raincoats and hurry out.
Arriving at the Theater we're stunned by the beauty of the lobby. We ask and discover that to buy tickets we need to go outside and around the corner. In order to get there we had to walk by a large group of senior citizens sitting on risers by the entrance; a woman was in front of them talking. We tried to walk behind her but she stopped us and everyone began to clap and cheer!  Jeff continued on, but she grabbed me for an impromptu conversation in Spanish. They were a senior citizen group from somewhere in Costa Rica who had come to the city for the concert.  Finally, I shout "Pura Vida!!" at them to which they all laugh and clap again.  What fun!
We buy our tickets at the booth, "Dos boletos por el concierto, por favor." The cost is higher than we expected; we thought the tickets were 1,000 colones but they are 3,000 colones each (which is about $5 USD a piece) Still quite a bargain!  While buying those, I asked about a tour. The theater tours are held every hour, so we buy tickets for that as well, it will begin immediately after the concert.
We have good seats on the 2nd floor and can see the whole theater. The lady next to me, a Tica, is pleasant and we chat a little; she helps me with a verb tense. The people of Costa Rica that we've encountered are very nice.
The concert is excellent.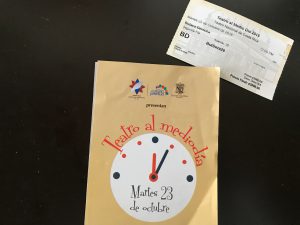 In total there are six opera singers and one pianist. The singers do solo pieces, duets and finally the entire ensemble performs together. What a great concert; we're so happy we stumbled upon this.
Afterwards we return to the lobby to meet our tour guide. Turns out there are only three on the tour: Jeff and I and a young Chinese man, who went to college in the US and is now working and living in Mexico City. This is his Mexican border run. We like him immediately and the three of us are awed by the things we learn.  For example, San Jose, Costa Rica was the 3rd city in the world to have electric lights -> behind only Paris and New York City. Who knew??
The theater, built between 1891-1897, was designed in a Palladian Neo Renaissance style by Italian architects and the many frescos on the ceiling and walls were painted in Italy, shipped to Costa Rica and glued in place!  The artists who painted these beauties had never been to Costa Rica and our guide pointed out that the women in one specific painting, done by Italian artist Alearo Villa, who was working from verbal descriptions of Costa Rica,  look like buxom Italian women and in it a man is holding a bunch of bananas incorrectly. Despite those rather obvious errors, the painting, Alegoría del comercio y la agricultura de Costa Rica (Allegory of commerce and agriculture of Costa Rica), was, in 1971, used as the image on  Costa Rica's 5 bill. Indeed, outside the theater there are hawkers selling these old bills with the painting on them.
Below is a photo of one of the many Italian ceiling frescoes.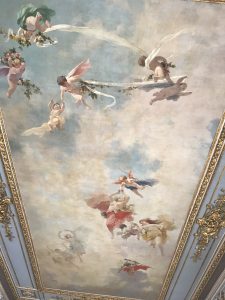 The National Theater would never have been built if it weren't for the local coffee barons.  The coffee plantation owners banded together and agreed to add a tax to every bag of coffee sold in order to finance the construction of a national theater. And this beautiful building is the result of that self-imposed tax.
The artwork in the theater isn't the only fascinating thing about this building…the architectural stuff was wild. For example, in the basement beneath the orchestra seats in the auditorium, there is a manual mechanism that used to be turned by donkeys, but is now pushed by hand. This mechanism lifts the floor of the auditorium to the level of the stage. So, the auditorium now becomes one huge room where balls and presidential banquets are held.  So, step one, take out all the seats on the floor of the hall; step two, take a bunch of folks to the basement (and we saw a photo of the current president of Costa Rica doing this) to push the big wheel around and around until the floor is level with the stage; step three, perform CPR on all the pushers.
The photo below is of the "widow boxes" which are private boxes on each side of the theater near the front of the stage.  This is where widowed women could come enjoy the theater without being subjected to people seeing them and debating whether they should be out enjoying themselves. (Apparently widowers were free to party anytime.) Famous people also had access to these areas so they could be at a performance and not be bothered.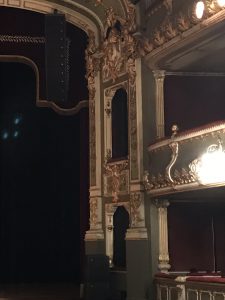 The widow boxes are now used for storage and for audio equipment.
There were also private men's and women's salons in the theater. Perfect for gossiping or getting away from your spouse for a bit.
Where we had been seated during the concert turned out to be right next to the President's box. And the President of Costa Rica does use this seating area when he is at a performance.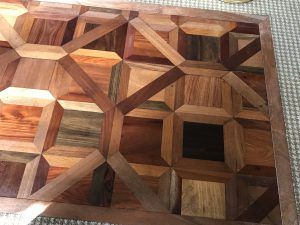 This photo of some wooden flooring is not only of gorgeous wood working, but it is significant in that the floor contains twenty different types of Costa Rican wood.  This small area was left uncovered when the area was carpeted. Naturally it is blocked off so you can't walk on it. It was beautiful.
Our hour tour ends on time at 2pm, but with our ticket sticky badges we are free to wander the building as much as we like. We take the opportunity t0 explore and to take lots of photos.
It is 3:30 and our hurried breakfast of toast and coffee seems forever ago. Happily the Teatro has a cafe and when we walk in I see an enormous piece of pie. I say enormous because it is so overfilled with chunks of fruit that is it huge. We order a piece of pie with ice cream to share, and sit at a window table to watch the passing crowd. Great pie! Now I think we'll have enough energy to walk home.
Though the weather forecast indicates a 100% chance of rain every day we are in San Jose, so far there have only been a few drops; but I guess that counts; after all, it did rain.
Back home, we relax and turn on the World Series. It is a bit disconcerting to hear it in Spanish, so I fire up my Ipad thinking we'll listen to the English broadcast while we watch TV. It was a good plan, except the game on TV was a full play ahead of the audio. That was much worse!  Back to Spanish.  Jeff did like it when the count was 2 balls/2 strikes because the announcers would say "dos y dos" (dose ee dose) which he found very funny.
Time for bed! See you tomorrow?