September 19, 2019 : San Jose, Costa Rica
Two years ago Jeff and I, along with our wonderful friends, Mary Linscome, Eve and Leroy Measner, and Eve's sister, Trish Nelson, took a 15 day Panama Canal cruise. We had a great time. This month, Jeff and I are celebrating our 20th wedding anniversary and thought repeating this relaxing cruise would be a fun way to mark the occasion. It won't be the same without our friends, though. Happily Pokey and Gumby are joining us.
Yesterday our neighbor, Dale MacIntosh, picked us up at 12:30 pm to drive us to SJO (Juan Santamaria International) our new home airport. Dale, being in Costa Rica, has replaced our long-time "personal chauffeur" Tom Delaney. Don't worry Tom, you are still on the hook for our trips back and forth to Colorado.
Our drive to SJO was uneventful, well, for Costa Rica, and we arrived at the airport arrivals area in good time. Yes, arrivals. We had Dale drop us at arrivals where we will catch the free shuttle to the Holiday Inn Express. As Dale pulls into the pick-up spot, the shuttle van is behind us. Wow, what great timing! I leap from the car, madly waving my arms to flag down the driver. With quick goodbyes to Dale and grabbing our suitcase, we get on the shuttle and are to the hotel in less than five minutes.
We've arrived before check in time and hang out until our room is available. I have a cup of coffee and Jeff prints our cruise boarding passes and luggage tags. The Holiday Inn Express is being renovated and we have one of the new rooms. Very nice…
Do you remember that I said "grabbing our suitcase?" Yup, we're getting good at this. A 15 day cruise plus 3 hotel nights beforehand and 1 night afterward, and we've managed to put everything, including snorkeling gear, into one suitcase, and we're still under weight. We each have a day pack for incidentals.
We spend the evening lounging around, watching the Thursday night NFL game not caring about either team (Jaguars vs Titans). I read some news. "Did you know there's a big storm over Texas?" I asked Jeff. "No…". A little more research tells us that Tropical Storm Imelda has dumped roughly 35+ inches of rain around Houston and its environs in the last 2 days. And, yup, both Bush and Hobby airports have been affected. Bush has closed because of flooding; but we're going into Hobby and then have a connecting flight to LAX. A quick check on Flight Aware (a great app, by the way) shows HOU has no major delays. Feeling a little better now, I check our Southwest Airlines reservations. Oh dear, they are doing the 'Your flight(s) might be affected and you can rebook for free.' thing. Decision time…. We decide to keep our original flights thinking the storm will probably move on; anyway we're spending two hotel nights in LA so if we get delayed a day it probably won't be an issue.
We walk down to the front desk and ask the to pop our microwave popcorn – and enjoy a frugal traveler's dinner of popcorn and beer.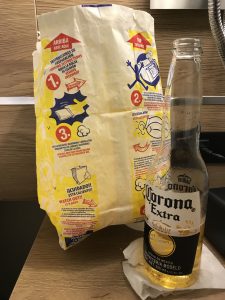 The Jaguars beat the Titans. ho-hum, time for bed.