Yes, it is Super Bowl Sunday and the six of us (Trish's daughter arrived last night, so now we are six) are having our own little fiesta tonight. But first we'll enjoy the day.
Without plan we all end up at the small continental breakfast area at the same time,  early like 9:15. Toast, yogurt, juice, fruit and coffee are set up on two small tables in a narrow hallway. Lots of "pardon me's" and "Sorries" as we and the other guests maneuver about. I don't think we are the demographic for this hotel as all of the folks I see are young Europeans.
We carry our breakfasts outside to the veranda where it is a little chilly but not bad. It is certainly much warmer than at home. As we eat and people watch we see folks walking by bundled up and even wearing gloves – I'm wearing shorts and a short sleeved shirt!
After breakfast Jeff and I walk a block over to the Beach Walk.
We walk for just over five miles dodging bicyclists, runners, skateboarders and people like us who are simply strolling. Pokey and Gumby enjoyed the outing as well.
The walk is clearly marked.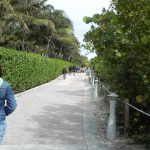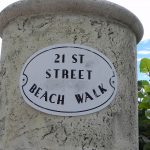 We've been to South Beach before and enjoy looking at the classic buildings and refamiliarizing ourselves with the Art Deco style. Art Deco buildings usually have porthole style windows and other features that appear in "3s" such as window panes or decorative designs. They often will resemble ships.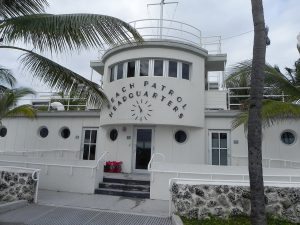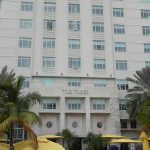 Eventually we make our way back to the Odyssey and I'm writing this as we relax on the comfy wicker sofa. Trish and Angela have gone to find some lunch; Eve and Leroy are heading off to the Museum of Erotic Art. Hope they bring back photos! LOL
Jeff and I retire to our room where he takes a short nap and I review my Spanish. (I am taking a Spanish class this semester and am going to try to keep up with my schoolwork.)
When done relaxing and reviewing we set out to explore the "Art Deco District." What a nice walk. When we walk back we return down a residential street and wonder what it would be like to snowbird here.
Back at the hotel I jump in the shower for a quick clean-up – we need to get ready for the game! Jeff and I stop at Leroy and Eve's room (aka 'party central') and we all go out to get Subway sandwiches. Trish and Angela are just going to snack.
Jeff holding the Bronco's sign, Eve and Leroy lounging on the bed, and Angela standing behind her mum, TrishGame time!! 2 six packs of beer, wine, champagne, chips, popcorn, vegie sticks…Eve and Leroy have gotten beach chairs from reception; Jeff carries the chair from our room down to theirs. We are set and the BRONCOS WIN THE SUPER BOWL!!!!! So exciting!!!
After the game, we tidy up the room and head our separate ways. Jeff and I are going to try and get on a city tour that Eve and Leroy have signed up for tomorrow. It is an all-day affair and sounds fun. Frankly, pretty much anything with those two is fun. But it is about midnight here and we need to get over to the tour place when they open at 9am to see if they have seats available.
Trish and Angela are going to skip the tour and head over to the Marriott by Miami International Airport where tomorrow night we will meet the rest of our Cuba companeros.
Since we are very limited on space/weight, the prizes for my contests will be quite small – just little tokens. So, will you be the first to respond to this question??
The movie The Birdcage was filmed in South Beach – who starred opposite Robin Williams as his partner? No fair googling the answer!
Good night!