Bridgetown, Barbados
Friday, March 14, 2014
Barbados
After our ship left St. Lucia yesterday, we sailed south between St. Lucia and St. Vincent, south of Cape Moule a Chique. We went southeast across the Tobago Basin to Barbados.
Though we've never been to Barbados, and not knowing anything at all about it (I've always thought of it as kind of scary) we decide to do our own thing. We even have a plan. Yes, we are slow learners. Hahaha!
After a quick breakfast of bagels and peanut butter and plain yogurt and some fruit, we walked off the ship around 9am. It was only a 10 minute walk to the bus depot.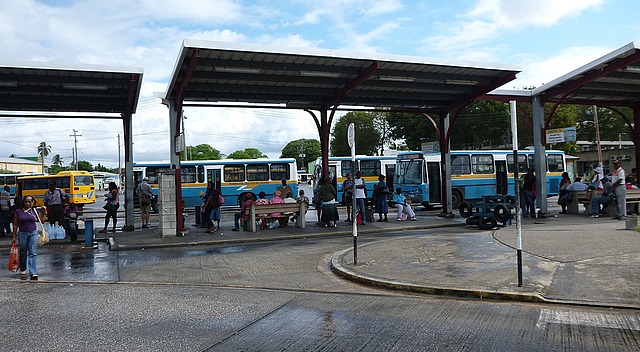 After a short wait, we hopped a bus to Holetown – bus fare $1 US each. (This bus also goes to "Pie Town" and that sounded very tempting!) We rode a "government" bus – just a normal big bus.
Get on, put your money in the box, get your ticket. The city buses are blue with yellow stripes. We asked the driver to let us out at Coral Reef Resort. All beaches in Barbados are public and we figured that if we snorkeled at a resort there would be amenities (i.e. beer!).  45 minutes later we got off the bus, the driver had actually bypassed the bus stop to drop us right at the resort entrance and we walked to the resort's security gate. The security guy was super helpful in giving us directions and off we went. Walked past the dive shop, all the vacationers lounging in their beach chairs and staked out a small bit of sand as our own.
It was wonderful! The snorkeling was very good and we were in the water for about an hour. Got out and watched 2 large catamarans pull up in front of us. You know you've picked a good spot if this is where the boat tours stop. We were cozy in our spot, and once I was dry I decided to get back in the water. It was just great! I've included one of my photos of a large school of blue Tangs.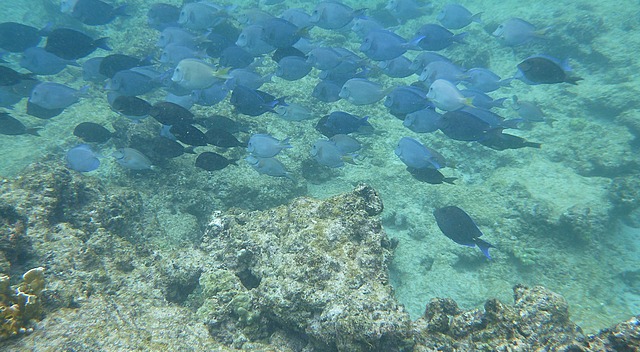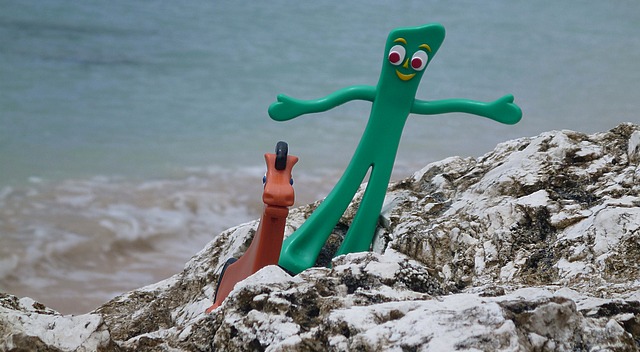 All too soon, it was time to head back to the ship. Back to the bus stop…the bus stop signs are pretty funny. They say "Bus Stop, Out Of Town" or "Bus Stop, To Town." No confusion there. 
As we waited at the bus stop a number of bright yellow large-ish minivans with blue stripes came by. Jeff asked someone waiting with us the difference between the two busses. The blue with yellow stripe busses are, as I said, run by the government and those employees are salaried. The yellow with blue stripe busses are private – running the same routes as the others for the same price – but they get paid by passenger. THAT explained why they were kind of hustling to get people on.
After several passed by, we got on a yellow bus.
OMG!! It was like riding the Night Bus in a Harry Potter movie!! You got on and before you could think, you were zooming down the road. We flung ourselves into a seat, gave a guy $1 each. He put it in a bowl at the front of the bus – guess he'll remember that we paid. There was rasta rap BLARING from the front of the bus – I was pretty sure my eardrums were going to break! When we stopped, we STOPPED. Slamming on of brakes, everyone lurching forward. I would not have been a bit surprised to see trees or buildings flinging themselves out of the way – you Harry Potter fans will know what I mean. We were thrilled to see the bus terminal. What a great adventure!
We walked back to the port and stopped at a bar for a local beer – we deserved it! The local beer here is "Banks."  You can see that Gumby enjoyed his immensely.
Tonight is the Captain's Circle party – meet the captain, free booze – it is a thank you party for returning Princess sailors. We shared our table with a British couple – who currently live in Alabama. They regaled us with great stories of snorkeling in Fiji and French Polynesia.
It was a great day.