Basseterre, Saint Kitts
Saturday, March 15th
St Kitts
Jeff and I have been to St. Kitts before; in fact, one of my favorite vacation photos of us is at Brimstone Hill Fortress.
Early this morning we were awakened by the Captain making an announcement from the bridge which is unusual. He announced that only one of the ship's six thrusters were working. Thrusters are the things that move the ship sideways and are important for moving to and away from the dock. As a result, we would not be tying up at the port in St. Kitts, but would be tendered in.
This wasn't a problem for us as we hadn't made any plans except just wandering around town, but there was lots of hubbub as the lifeboats were lowered. To get to shore you have to get a tender ticket and through the day they call the numbers. It's interesting that when they make the announcements they always call the lifeboats "pontoons." They are definitely not pontoons, but that or "tender" probably sounds better than telling people to get into the lifeboats.
We waited until the crush of those going ashore was lessened and made our way to St. Kitts. Walked around town and took some photos.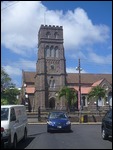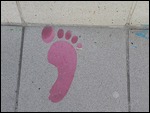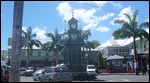 The "Circus" is a big circle and with the traffic and pedestrians it does indeed resemble a circus.
After a while we decided we were really hungry…there were plenty of the normal tourist restaurants, but that grilled chicken smelled so good! You guessed it – we went back to one of the street grills and bought a chunk of chicken to eat.  It came with a piece of garlic bread. We then made our way to an outdoor cafe and ordered a local beer. The chicken was phenomenal!!! $4 U.S. for an excellent local lunch.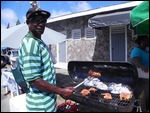 This is what vacation is all about…
Back on the ship via tender I spent the afternoon reading while Jeff napped then we went to the gym and worked out.
Announcement from the captain -two of the six thrusters are fixed. Progress, but for our stop in St. Thomas tomorrow we will be tendered into shore.
Always an adventure.