At sea, Aruba
Thursday, March 27th
At Sea
This is the first of our last two 'at sea' days. We did the cruises in this order because we knew how relaxing it would be on the boat here at the end. We've planned a full day. After our 5 mile walk around and around the Promenade deck, we go to the coffee bar to buy coffee. We've never done this before and it's good that we did it now as the coffee is delicious! Very happy we didn't discover that earlier in our cruise or we'd be broke by now.
We took our coffee and yogurt to the Princess Theater to hear a talk about the ship's navigational systems. It sounds dull but it wasn't. We learned a lot about the navigation systems used on board and they are not just duplicated but are triplicated including a manual work flow (doing things the old fashioned way with paper charts) in case of satellite failures or something catastrophic like that. There were a lot of facts given, tonnage, draft, stuff like that but what Jeff and I were most surprised at was how Princess has taken a huge environmental step while docked in some ports. In a few ports, LA and Seattle are two that I remember, the ship can plug into on-shore electricity! So, in those ports the ship's engines can be turned off saving fuel and eliminating emissions. Princess is currently the only cruise line that has this capability, though you have to think the others cannot be far behind. The size of those couplings are HUGE!
We also learned that the ship gets .01 miles per gallon (about 50 feet per gallon).
Immediately after the Navigation talk there was another scheduled about the ship's Technical aspects – motors and that sort of thing. We did learn during this presentation that the ship makes it's own fresh water though it will sometimes have some brought on in port. Who knew?
At 1 pm we met the "Rs" in their cabin as the four of us are going to lunch together. What a nice time! Their stateroom is considerably smaller than our mini-suite but they have a deeper deck and 4 instead of 2 chairs. We had crudités and dip and shared a bottle of champagne. After chatting for about an hour we made our way to the Horizon Court buffet. We had a wonderful time and suddenly it was 3:30 and Rossana was heading off to make cards – one of the at sea shipboard activities this afternoon. They are such an interesting couple.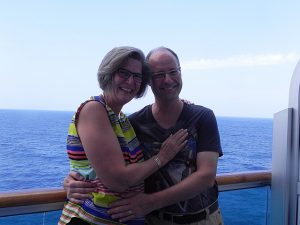 We do a couple of errand types of things – return library books, check our shipboard accounts, a little laundry to be hung on the line in the bathroom.
Tonight is formal night and we dither as to whether we want to make the effort or not. The special drink in the elite suite tonight is mojitos – I like those and decide it is worth getting dressed up for. I wear the gal abaya (I have no idea if that is spelled correctly) that I bought in Cairo. It is very unusual and always draws comments. We get up to Skywalkers about 1/2 hour before the end of the event, and share a table with a very interesting couple, Bernie and Rosemary. He lives in Arizona, she lives in Pennsylvania and they take at least 3 cruises a year together. She'll go stay at his house for months and he stay at her house for months. He has done almost 200 cruises and she is not far behind him. They are fun to talk with, obviously VERY well off and are on first-name basis with George and Laura Bush. Nice to chat with though we're pretty sure we would not get along with them long-term!
At dinner we were lucky enough to share a table with 2 other couples. Mary and David are British and Avis and Joe are from Virginia. Mary and David, quite a bit older, regaled us with wonderful stories of living on their sailboat for 12 years, being shot at on the beach in Turkey, Mary falling overboard while trying to untie a line. They were great! Avis talked mostly about her bad back but did tell us about their second home – an 1800s Victorian house on Chesapeake Bay. Joe talked about Avis' bad back and her redecorating of their house. All in all it was a very nice evening.
The wind has picked up tonight and the boat is REALLY rocking! Jeff and I stepped out onto the balcony just as the boat lurched and we got hit with spray and wind. Yikes!! We decide it really isn't safe out there and come in for the night. We stagger around the cabin as the boat rocks and rolls. Luckily neither of us is prone to motion-sickness and we enjoy the lurching and rolling. Better than an amusement park ride!
Time for bed…