Aruba
Wednesday March 26th
Aruba is one of our favorites places to snorkel – this is the third time we've been here; the last time was April, 2013, just 11 months ago. We left the ship around 10:45 and walked around the corner and across the street to catch the bus to Malmok Beach. Our timing was so good! The bus was right there – and it costs only $2.50 each.
This isn't really a beach as there is very little sand. It is mostly big rocks (like Dominica), but we know of a sandy spot to get into the water. Malmok is not quite as far out as the California Lighthouse and if you didn't know about it you'd be concerned with getting off the bus out in nowhere.
There were two excursion boats at the beach when we arrived. You can easily tell they are cruise ships boats because: 1) they are crowded; 2) they play loud music and 3) all of their snorkelers have to wear life vests.
We snorkel out north of the boats where it was much less crowded and quieter. The snorkeling was good – we saw a large school of cuttlefish; an ENORMOUS school of yellow jacks and when I say enormous, I mean thousands! I've never seen anything like it! Hoping that the short video Jeff took of them is clear. I was so excited when he spotted a starfish; unfortunately it was too deep for us to get a good photo. He also spotted a small flounder skimming along the bottom – those things are very difficult to spot!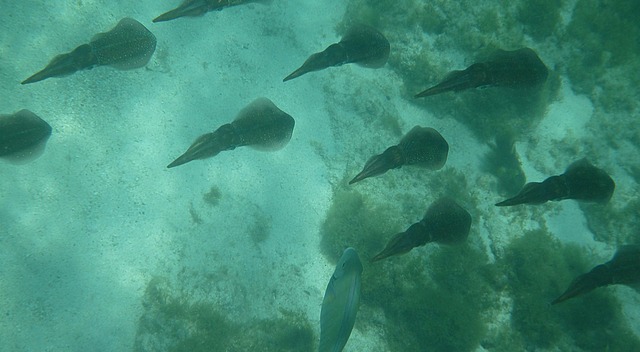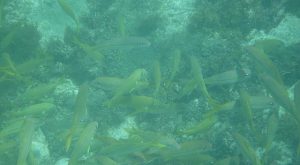 We snorkeled for over an hour – one of the excursion boats left, another took its place. When we got out we sat on the rocks, dangling our feet over the edge and let the sun dry us.
Jeff surprised me by pulling two juice glasses that he had purloined from the ship out of our beach bag along with one of our little bottles of champagne. What a wonderful surprise!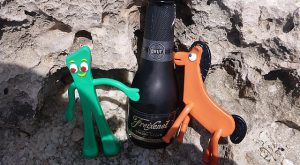 We toasted our final snorkeling adventure. Celebration complete, we packed up and caught a bus back to town.
Once back in town, we went aboard, dumped our wet gear and slipped out of our swimsuits, washed off the sunscreen, then walked back into town and did some souvenir shopping. We got two very nice wooden pieces made locally. The craft is called "Mopa Mopa". It is a process which includes combining the melted resin of the Mopa Mopa buds and leaves with mineral powder (for color) then stretching the resin (think taffy) to combine and make the resin easy to work with. It is hard to believe no painting or staining is involved as the pieces are very colorful.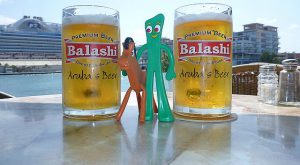 Naturally while on shore we also sampled the local beer – Balashi. Pokey and Gumby enjoyed hanging out with us.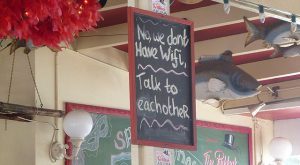 As we were sitting in the cafe, Rosanna and Reto from Switzerland went by. We called to them and they joined us. The four of us made plans to meet at their cabin at 1:00 for lunch tomorrow.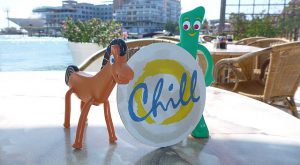 Back on board, we got cleaned up for real, stowed our treasures, and went to the early theater show, "Divas of the 60's" starring Lexi Newman. She had a great voice and we enjoyed the show a lot. At dinner tonight we shared a table and had good conversations with two sisters, Sue and Belinda, from England – their first cruise- and Felix and Cristina, from Canada, their third.
There was a nice surprise waiting for us when we got back to our cabin. We got excursion tickets for an Ecotour of the Everglades prior to going to the airport on Saturday. When we went to book the excursion a couple of days ago there was only one seat left so we were wait listed (again). This will be great! Instead of sitting and waiting to disembark and then sitting in the airport for hours waiting for our flight on Saturday, we'll get off the boat early, go to the Everglades and then be dropped at the airport in plenty of time for our flight.
Good ending to a fun day!