Our last full day in Iceland – wow, the time has gone quickly! We get up and head for Rekjavik Roasters one last time. On the way there we drive along the harbor road and suddenly spot the sculpture that we wanted to be sure to see! We're lucky to have come this way. The "Viking" style stainless steel sculpture looks really nice against the gray background.
Our breakfast was quick. I had a delicious chocolate croissant, Tom, a croissant with cheese and jam (sounds odd, I know, but apparently it was very tasty.), Jeff settled for just coffee.
Now we are going to return to some of the places we visited briefly during the trip. First stop, Hallgrimskirkja (Church of Hallgrimur). This church sits on the highest point in Rekjavik and its tower reaches 244 feet into the air, making it one of the tallest buildings in Iceland. It is certainly an easy to spot landmark. We are going up the tower for photos. We pay for our elevator tickets and then climb the rest of the way to the top.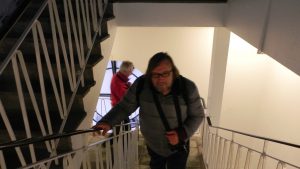 It is VERY VERY windy up here, but the views are certainly a nice reward for the discomfort.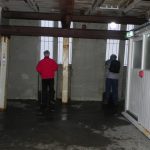 I'm happy to be wearing my windproof jacket and pants.
We're quickly frozen and head back down. The sculpture garden we visited during our walking tour the morning we arrived is next to the church and we go there for a longer visit. This time we're dressed for the weather and spend a lot of time wandering about.
The Pirate Party is a real political party in Iceland!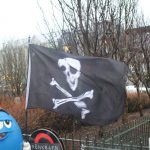 Now, we decide to do some souvenir shopping. My shop, of course, is the Hand Knitters Association store. Tom and Jeff leave me to drool and look, and look, and look. I find a hand knitted Icelandic design sweater and pick out 8 skeins of good yarn.
If it won't fit in my suitcase, I can wear the sweater! I'm super excited with my presents to myself.
Before I had finished, Jeff and Tom, who had gone looking for a souvenir store are back with packages in hand. I make them take me back to their souvenir store so I can get a cute t-shirt. We walk around a bit looking for an art gallery that had caught our eye earlier in the week. This is an art coop and there is a variety of different media – very, very nice stuff. Tom is interested in two painting but we leave without buying anything. We learn that artwork is not taxed in Iceland, the artists keep what money they make.

Going in the shops and restaurants here in Rekjavik is so interesting because they are independently owned…no big box stores and not a lot of chain restaurants, though we have seen many Subway restaurants, but no Starbucks, McDonalds or WalMarts.
Time to move on…
Our big event planned for today is Tom's idea and he springs for the tickets. He is a big Bjork fan, she is a native Icelander, and at the "Harpa" Rekjavik's gorgeous concert hall, there is a virtual reality Bjork exhibit. But first we have to figure out how to get into the parking garage, haha! Two attempts later we're good.
Bjork has a new album and this VR show is based on four songs from that album.
The show is wonderful!! It is in four different rooms on three separate floors of the Harp. There are only a few other people in our group. In the first two rooms we sit on swivel stools, put on the virtual reality headgear and enter the scene. Looking up, down, spinning slowly on our stools, we take in the surroundings. It is like being a vaporous being in a different, but oddly familiar world.
In the third room, we stand with the head gear on. Wow! Here is Bjork coming right at me! I instinctively move aside to let her pass and bump into some of the equipment – yikes! I need to remember that she isn't real…especially since she just walked through me!
In the final room, again we are standing, and this time we are given hand controls. We are interacting with the VR scene. I lift my hands and draw spiralling circles coming out of Bjork's mouth…watching the colorful lines float in front of me. Drawing within the unreal reality is very weird.
Neither Tom, Jeff nor I have ever experienced much virtual reality and this is so cool!!
What a great way to end our trip! Thanks, Tom!!
Well, today is Thanksgiving Day in the US, so we decide to go out for a nice dinner. We end up in an Italian restaurant and everything is just delicious.
Back to the hotel, we begin the sad but necessary task of packing (Where AM I going to put all this yarn??)