Wednesday, November 23, 2016
Today is going to be great! We have a plan, and a car, and a thermos of coffee.
Jeff and I didn't know much of anything about Iceland; we came for the Northern Lights. Tom, however, is quite knowledgeable about the country, the language and the people and today is his plan. We are going to drive down to the Southern coast, near the town of Vik. Because there is only one major road, the Ring Road, which encircles the island, we're pretty sure we won't get lost. We start out with Tom at the wheel and Jeff navigating…and within 10 minutes realize we're going the wrong way. hahaha! Okay, U-turn and here we go.
I find myself wondering… Iceland is 39,768 square miles, about the size of Kentucky, and the main road is a circular route, so, would that make "round" instead of "square" miles the correct measurement? Yes, this is how I amuse myself when travelling!
The scenery is beautiful with many flat fields filled with rolled bales of hay. Most of the bales are wrapped in some sort of protective plastic, probably to protect them from the elements. They are wrapped in white and tan…and pink??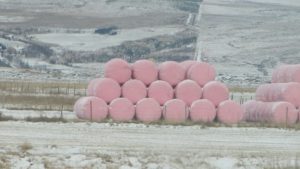 Jeff suddenly tells Tom to pull over – we've got to check out the pink hay. Tom slams on the brakes and steers us into some farmer's driveway where we trot down the drive a little, take photos and hurry back to the car. Typical tourists!
Further down (around) the Ring Road, Tom pulls off at Seljalandsfoss, an incredible waterfall that drops over 197 feet. The water forming this falls originates in the volcanic glacier Eyjafjallajokull. As we got out of the car, bundled up, and reached for cameras, Tom realized that he had left his camera battery charging back in his hotel room in Rekjavik! This is a SERIOUS bummer! Today's adventure is probably what he's been looking forward to most. We feel terrible for him and promise to take loads of photos.
You can see the size of Seljalandfoss by looking at the tiny people at the bottom of the photo.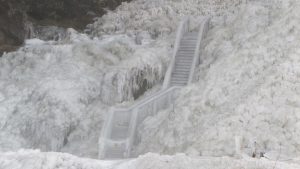 The icy spray from the falls coats everything and we were happy that there was no need to navigate these stairs nearby.
On we go. A while later we arrive at Reynisfjara, the famous black sand beach on Iceland's southern. It is very windy and cold because we are standing in the icy wind coming right off the North Atlantic ocean. The waves are very rough and crashing to shore.
We see what I've taken to calling "baby Stonehenge" and ask Tom who would put all these pillars here. Well, these pillars are naturally occurring! I'm flabbergasted.
These columns were formed by the rapid cooling of basalt lava. The length of time it takes the lava to cool gives them their square and man-made looking shapes. Fascinating.
Tom points to three large towering rocks out in the ocean, "Those are basalt stacks" he tells us and their formation, again, is based on their cooling time. There is no other land mass between this beach and the Antarctic – no wonder it's cold!
We all walk our separate ways to explore.
Jeff takes photos of the beach
 and fills up a water bottle with black sand. We've been on black sand beaches before but none has ever been like this – this beach is really sand, soft and smooth.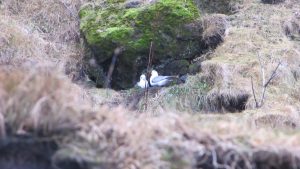 I walk up a hillside to take photos of arctic terns. This area is known for its large and varied types of birds. In the summer, apparently, this is where the puffins are.
Off in the distance, I see a small country church on a hillside. It looks like a water color.
(Hint: John Smith! A water color rendition of this photo would be a nice gift for your little sister!)
Tom starts walking up a steep hill and as I watch, he disappears! Poof! Gone! I shout to Jeff, "Where did Tom go??" We quickly start heading to the spot where he disappeared, after all, he has the car keys!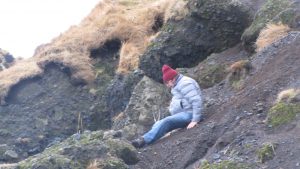 Then we see him on his butt, starting to stand. "I'm okay, just slid down a little" he shouts and waves. And except for some dirt and ripping the knee of his jeans, he is indeed all right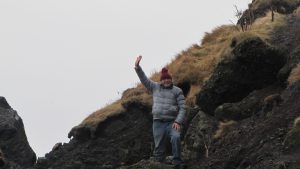 We spend a lot of time walking around, but too soon it is time to head back to Rekjavik.
Jeff takes the wheel and we go 'home.' Back at the hotel we get cleaned up, Tom goes to put on unripped blue jeans. When he returns, he announces that his camera battery was in his backpack all along!! WHAT a bummer! I told him that we're going to paint it a bright flourescent color…
For dinner tonight we go to "Glo" a vegan restaurant that we've read about and have been hoping to try. Glo is upstairs, tiny little narrow stairs, in a small building. The restaurant is very small. When you go in, there is a little glass counter where you can see the day's offerings. Unfortunately they were out of butternut soup which would have been very nice after the cold day. They did have a variety of wraps and a delicious vegan lasagne. What a lovely way to end the day.
Tomorrow is our last full day in Iceland, and we have some fun stuff planned!