As we begin our Ring Road adventure all three of us laugh at our "little lady" the GPS voice we've dubbed Katie. At the first 8 or 9 round-abouts she directs, in her British accent, "Enter the round-about and take the 2nd exit." Always the 2nd exit.
Jeff, Tom and I have spent a bit of time planning this trip and have designed an itinerary for the first three days. This being day one, the top 2 things on our checklist are 1) get car (check) and 2) get groceries. Spotting a Bonus supermarket, we rudely take the 3rd exit of a round-about. Our detours send Katie into a "recalculating route" chant.
Good grief. It is 8:30a.m. and the grocery store doesn't open until 10. But, the gas station next door has a Dunkin Donuts sign. We trot over there, it is  too early for donuts, who cares? They have real coffee. Hooray!
Part of our planning was also driving responsibilities and as I am the person most likely to sleep on an airplane, I will drive the first day. This first stretch is 8 hours. Because the 3 of us were in Iceland in November 2016 and did the popular Golden Circle tour then, we are going to skip that area and do the Ring Road (also called simply "Highway 1"). We are going in reverse order heading west today.
And we're off. The clouds are hanging low giving an overcast and foggy atmosphere. Our first stop today is Borgarnes, about an hour away.
We drive through the 3.5 mile long Hvalfjordur Tunnel which runs beneath the fjord. Although the tunnel area is not actively volcanic, the undersea rock is warm (up around 135 degrees (F) on one end!)
After the tunnel (and paying the  1,000 kroner toll), we pass between Akrafjall and Hafnarfjall Mountains. It is a serious understatement to say the scenery is incredible. Even though it is raining and we cannot see the tops of the mountains, what we can see is breathtaking.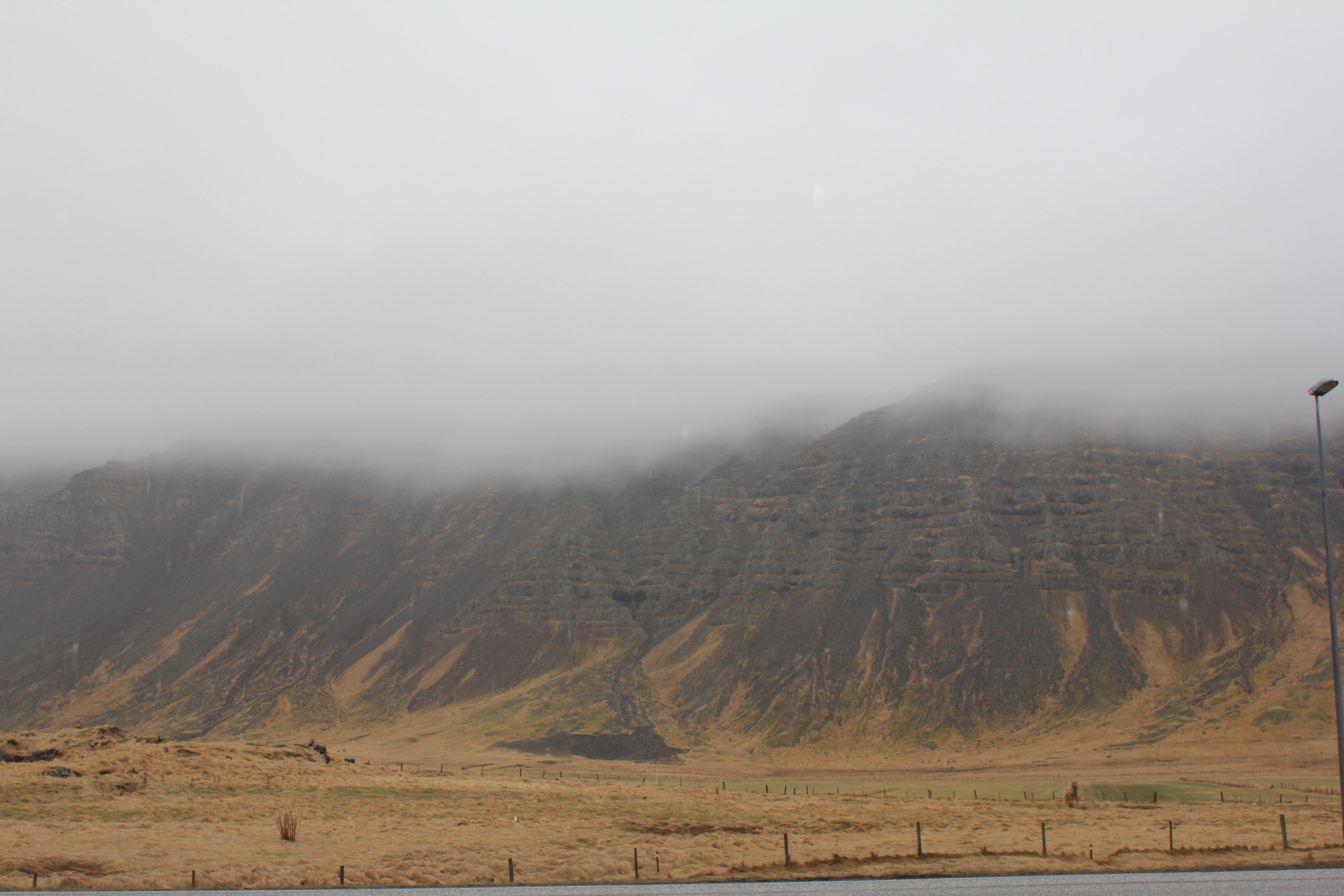 We safely arrive in Borgarnes and set out to find our first attraction, the Settlement Center (Landnámssetur). This is said to be the prime place in Iceland to learn about the Settlement era.
 There are two distinct exhibits: the first discusses why and how the Viking Age settlers came to Iceland, and the second is "Egils Saga" (Skallagrimssonar).
The Settlement Center's entry fee pays for both exhibits and for each you get an audio narration (required).  The settlement exhibit was very interesting providing much information about the Vikings, where the various original settlers arrived – you push buttons that correspond with the narration, lighting up the locations on a big map. There was a fun prow of a Viking ship to stand on.
 (looks like we're sailing into the sunset.) It rocked as the sounds of waves and seabirds played on the audio. It was a well done exhibit.
The downstairs exhibit, Egil's Saga, was very different both in information and presentation. It was illustrated by locally carved figures and carvings. That woodwork was amazing.
In short, Egill was a poet-warrior who got in all kinds of trouble in Norway and in Iceland. He wrote his first poem at age 3 and at age 7, after losing a game, "buried an axe down to the brain in the head of his opponent."
It's unknown how much of the Icelandic sagas are historically based and how much is fictionalized, but it looks as though Egill would have benefitted from some anger counselling. You can read about Egill's Saga here.
This exhibit also took about 30 minutes – its time for lunch, but first we have to get by this scary Viking.
Our itinerary for the day includes having lunch at the Settlement Center and what a good idea that was! Upstairs in the restaurant there is a huge vegetarian buffet (includes coffee and tea).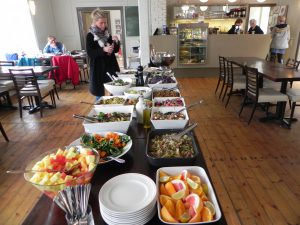 and this wonderful gigantic loaf of warm bread. The bread was covered with a heavy tea towel to help keep it warm and for you to hold onto the loaf as you sliced off however much you wanted.
Jeff and I both chose for the buffet,  while Tom opted for a burger of local beef, which he pronounced "delicious."
Time to drive on. We are now going to the village of Reykholdt where we will leave the Ring Road to visit two waterfalls. As we drive out of Borgarnes, I glance up a hill and catch sight of "Brákin" a big monument that looks like a giant wheel with wings. Because it was raining and "way up there" we decided not to stop. (The story of the monument is very interesting and I do suggest you Google it.)
Along our drive I pull over when I spot a sculpture beside the road. Interesting.  
The drive to the waterfalls is only about 20 minutes (one-way) out of our way and we hope they will be worth the detour.
The Hraunfossar and Barnafoss waterfalls are close together and share an easy walking path. The Hvítá (White) River runs through here but it is not the cause of the Hraunfossar (Lava Waterfalls). See, part of the valley above the falls is new lava which is very porous. Groundwater streams have sunk into the lava fields and (across the river) there a rivulets of groundwater coming out from under the lava field and falling into the river. It looks like water on top in the photo, but it is black lava. Like 1,000 bridal veil falls – gorgeous!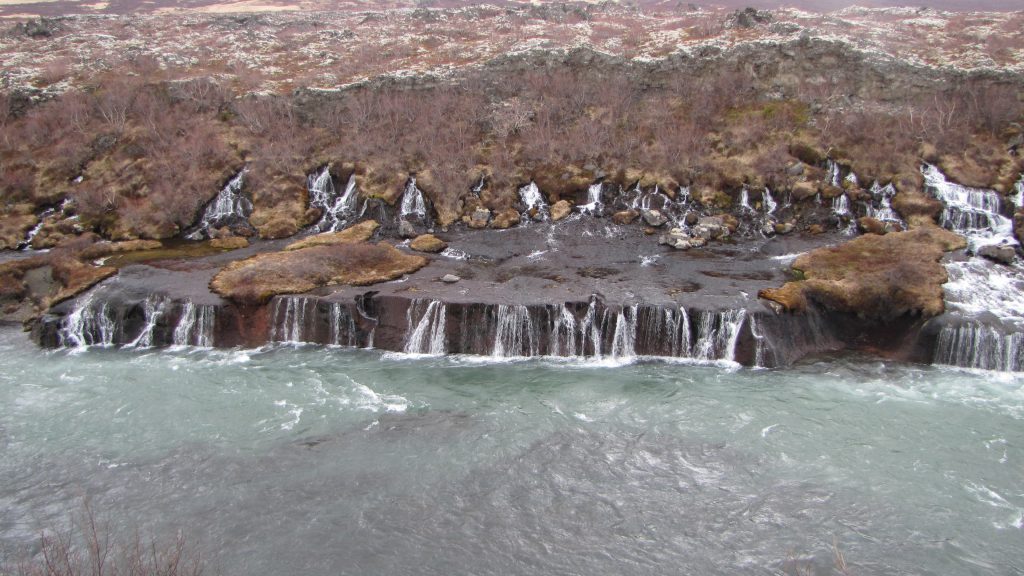 About 100 yards upstream, the Hvítá River does create the Barnafoss. Barnafoss translates as "Children's Waterfall" and there is part of what looks like the remains of a natural bridge over it. The legend is that 2 children were supposed to stay in the house while their parents went to Mass on Christmas Day. Of course, they didn't. They went out to play, fell off the bridge and drown. So, their mother destroyed the bridge to save other children. A dark story, but a beautiful waterfall.
It is cold and still raining, but we spend quite a bit of time enjoying the falls .
but now its time to get back in the car and drive to Grundarfjördur near the tip of the Snæfellsnes Peninsula. The weather is clearing and I'm having a tough time keeping my eyes on the road, not because I'm tired (I am) but because the scenery is seriously spectacular.
Tah-Dah! We have arrived at Hotel Framness. It is 5:30p.m. and we have all been awake 29-30 hours; and I think we've held up remarkably well. It has been a wonderful first day, and it has been a LONG first day! We unload the car and lug our suitcases, backpacks and "food bag" up the stairs. Tom's room is directly across the hall from ours.
Jeff and I resolve to stay awake until 7p.m. at which point we collapse into bed. Dead to the world.