We all slept wonderfully. Tom said that was the longest he's slept in his life. Happily we remembered to set alarms so we would not miss our free breakfast. Our buffet breakfast was yummy with a nice variety – eggs, a waffle iron, yogurt, fresh fruit, baked beans, lunch meats and cheeses, toast – very European.To my surprise there was also a jar of peanut butter. I love peanut butter; in fact, there is a jar of peanut butter in my suitcase!  We sit, enjoying our breakfast and review the day's itinerary.
We know that in Varmahlid, between here and Akureyi, which is several hours away, is the Glaumbaer Museum (Skagafjorur Heritage Museum) but it is only open from 10a.m. to 4p.m.  Since it's already 10a.m. we know we'll have to skip that as much as we'd love to see some traditional turf houses.  But we have some other sightseeing plans in mind (always a backup plan).
We check out, load the car and Tom takes the wheel. The Snaefellsnes Peninsula, where we are now, is the middle of three peninsulas jutting west off the coast of Iceland. The peninsula is known for its beautiful mountain, Kirkjufell and the waterfall next to it, Kirkjufellfoss. I have an Icelandic candy bar with lava salt for the first person who can tell the answer to this question: Kirkjufell (Mountain) is featured prominently in what classic Christmas movie (in looks, not by name.) Here is a photo to help you.
We spent about an hour at Kirkjufell and Kirkjufellfoss wandering around and taking photos. Time to get back in the car as we have a long ride. We stop a couple of times to stretch our legs, gawk at the scenery, and marvel over what looks like hiking cairns that run next to the road for miles and miles and miles. Turns out that they are cairns because we go over Holtavorduheidi or "Hill-Cairn Heath" a pass at almost 1,400 feet.  We can see where the fjord almost meets the road (Ram Fjord  or Hrutafjordur)
Here we stop at Stadarskali, a big rest-stop complex. Kind of like a truck stop – free bathrooms, burgers, etc.  Coffee seems in order since we're not half way to our destination yet.
Driving on, each of us, pretty much at the same time, sees a wonderful mountain spire. Tom pulls over and we get our photos. Turns out this is a notable area, and the sign along the side of the road tells us that we are in front of Hraundrangi, a national landmark, and Hraun, the birthplace of Iceland's most beloved poet, Jonas Hallgrimsson. The valley is called Oxnadalur.
It is only about 4:30p.m. or so when we arrive in Akureyri, which bills itself as the "Reykjavik of the North." We zero in on our guesthouse and walk around and around trying to figure out how to get in. Finally, Jeff opens an unlocked door and we find ourselves in a foyer. There are two antique suitcases open on a shelf and in each there are several binders; one with a sticky note that says Barnes and the other is Delaney. This must be the place!  We have a room on the first floor and a room on the third floor…Jeff and I take the room on the 3rd floor. This place is great!
Here are some shots of our room (Jeff liked the funky shower and bath curtain), and a bird's eye view of the town.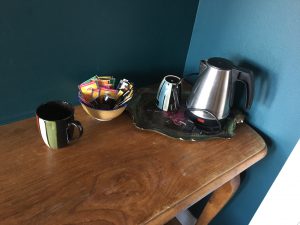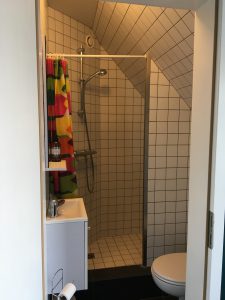 The check-in binder has information that we need. For example, parking in Akureyri is free, but is timed; so you either use a little paper clock (that you can pick up at tourist info or just about anywhere) or there was a piece of paper in our binder. You write down what time you park and put that paper on your windshield. The paper had several slots, so if you're shopping or going different places, you just write the times down.
There is a business card in the binder for a couple of local restaurants. The fish restaurant sounds good to all of us, but first we need to go to the grocery store for a few things. We head to Bonus supermarket, only to discover that they closed about 15 minutes ago at 6p.m! There is a Netto grocery store very close by so we go there and just in time! It is 6:20 and they close at 6:30! Just in the knick of time.
We have fish and chips, and Jeff samples a local microbrew, at Akureyri Fish.
Definitely a local place and very good though the servings of chips was massive. One serving would probably have sufficed for all of us.
It has been another long day and we're stuffed from dinner. I go back to the hotel to write, Tom goes to his room and Jeff decides to go for a walk.  The church in Akureyri is famous because it was designed by Gudjon Samuelson, the same architect who designed the Hallgrimskirkja Lutheran Church in Reykjavik. You have probably seen photos of that church and the church in Akureyri certainly displays the similarities.  Jeff also walked by the public library which was right next to our guesthouse.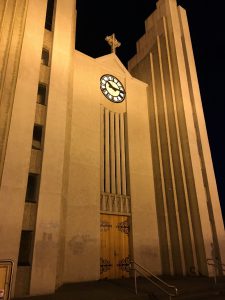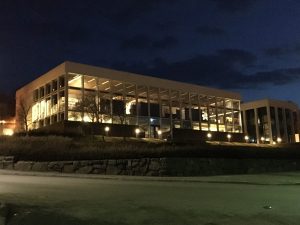 I kind of messed up our itinerary for tomorrow but I think it will be okay. We are going on an all day "Myvatn Classic" tour.  Myvatn is an area about an hour from Akureyri – the tour will pick us up here at the guesthouse and at the end of the day return us here. And then because I wasn't planning very well, we will get in our car and drive back to Myvatn to spend the night. Can never spend too much time traveling, I suppose!
Please join us tomorrow for some really interesting geological and thermal sights. Oh! And here's a photo of the prize for today's post!