Today is our one of our down days –  a day to sleep in (we did) and relax – which we did big time! Seriously, I don't have much to write about. Let's see, I went to the Activity Center to get a book from their yellow shelf library because I want something to read while laying by the pool.
Jeff went to the workout room while I swam a bit. I went to the pool in the early afternoon because I knew it would be less crowded with families still at the theme parks. It was so relaxing!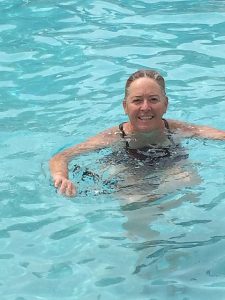 We went over to Walmart to pick up wine and more salmon and postcards. If I'm in the U.S. there is no excuse not to be able to figure out the postage. LOL
After dinner we read for a while and then turned in.  We didn't have a lot planned for today, but that was because we thought we'd have other down days and we may not… Stay tuned!