My suitcase is zippered shut, my passport is in my back pocket…ready to go!
After spending the night at the Denver Marriott Airport hotel, Jeff and I met our wonderful traveling companions, Eve and Leroy Measner in the hotel lobby at 5:55 a.m. for our shuttle to the airport. We stayed in Denver overnight because we have an early flight and in Colorado you just never know what the weather is going to be. So, rather than risk a snowy or icy drive, we decided to spend the night in Denver. Happily I had enough points for a free hotel room and since our personal chauffeur (hahaha!) Tom Delaney delivered us to our hotel, we don't even have to pay parking. Thanks, Tom!
Denver International Airport is all decked out in blue and orange in honor of the Denver Broncos being in Super Bowl 50 tomorrow. All the gate staff are clad in Bronco attire and even the departures board is festive.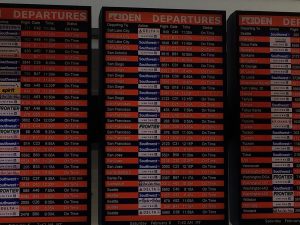 At our gate we meet up with Eve's sister, Trish. In all our party will number seven as two more friends are meeting us in Miami.
Our flight today is to Miami, FL. We are going to spend today, tomorrow and part of Monday in South Beach. Tuesday we start our nine day adventure in Cuba.
The flight is completely uneventful, we land, retrieve our luggage and head for our reserved Super Shuttle. Since there are 5 of us I've arranged for a non-stop private shuttle.
The drive to the hotel doesn't take very long and we all enjoy the warm weather and seeing the palm trees. We've left about a foot of snow back in Colorado! I can't wait to put on my shorts and short sleeved blouse.
We're staying at the Odyssey South Beach Hotel. A small boutique hotel one block from the ocean. Turns out our reservations include free breakfast, a free happy hour drink (red wine, white wine or champagne) and snacks, and beach chairs and umbrellas to carry over to the beach. Very nice.
After checking in, dumping our luggage and changing into tropical attire the five of us convene in the hotel lobby. We had agreed that if any of us were to lay down we'd fall asleep and that would be that – so we go for a walk and to find a bite to eat.
First things first – the beach! Off come our sandals or sneakers and socks and into the cool, wonderful sand go our toes. Aaahhh…
Eve, Leroy and I can't resist wading into the water a little.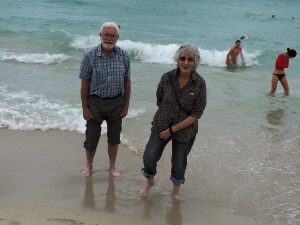 Eve gets a wee bit further in and pays for it by getting wet pant's cuffs. Brrr! Well, as Jeff points out, it IS February here, too!
Our shuttle driver had told us that good food for reasonable prices was on a street a block behind our hotel, and since we're getting hungry, we dry and desand our feet and head to Washington Street. From Washington we arrive at Espanola Way, a pedestrian friendly historic Spanish village, now home to art galleries, boutique shops and restaurants. We are delighted to learn that lunch menus are good until 5pm, and choose to eat at Hosteria Roma, a local Italian place. YUM! Great food!! A relaxing dinner, wonderful company – vacation!
Back at the hotel we get our complimentary drinks and snacks (as though we need more food) and go outside to sit on the veranda. Jeff and Leroy rearrange the wicker sofas and chairs so they form a semi circle where we sit, people watch and chat. Finally the long day catches up to us and we all head for our rooms. It IS 8pm after all!
What will tomorrow bring?