"This is livin', this is style, this is elegance by the mile
Oh the posh posh traveling life, the traveling life for me
Whenever I'm bored I travel abroad but ever so properly…."
Yes, indeed, we are traveling the posh life. Eve and Leroy Measner were very generous with their frequent flier miles and Mary and I are traveling first class from Denver to Istanbul (and back). Here's a photo of us in our roomy spots on United Airlines.
Now, for a short hop to Washington DC (Dulles) and onward for a nice 10 hour nap…
During our short (3+ hour) flight to Dulles, Mary napped. She missed the hot towels and complimentary toasted almonds and cashews…oh, and she missed our "snack" but I ordered for her and when she awoke they delivered hers. Here's a photo of our snack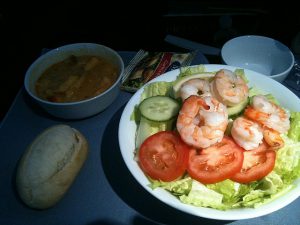 …a very tasty chicken/cheese soup; a shrimp salad; dinner roll and wine.  It was more that I usually eat at a meal!
Later in the flight, hot chocolate chip cookies were delivered to our seats.  Oh, we're going to be spoiled…
CONTEST! If you can tell me  where the lyrics of the song quoted in this post are from, I'll bring you a little gift from Turkey. Winner is whoever posts first to my Facebook account with the correct answer.
"I'm on my way to far away tah tah and toodle-oo
And fare thee well, and Bon Voyage, Arrivederci too.
Oh the posh posh traveling life, the traveling life for me!"