Lahaina, HI
Today, we have decided, is going to be our down day – no plans, nothing to do except BE.
We have chocolate macadamia nut pancakes (just add water) and coffee for breakfast – so decadent and so good!
We eat out on the lanai where we can hear several little kids shouting "Big wave! Big wave!" There are three little ones, the oldest is maybe 7. They have boogie boards and are barely in the surf as it gently comes to shore. Every time, at practically the instant the water is under their boards, their arms flail and they topple right off into the sand. Once, the little boy, apparently in anticipation of water touching his board, simply face plants himself into the sand. I am laughing so hard I can hardly stand up. Jeff takes a 6 minute video of these 'surfers' and we walk down to the beach to give their dad a note with our email addresses so when he gets home if he writes us we can email the video to him.
Walking back toward the condo, I realize that I do want to snorkel, so we go upstairs where I put on my suit, grab my gear and head out. Jeff settles down on the lanai to read.
The snorkeling is nice, better than the other day in visibility, the water is very warm and, what do you know? There's a turtle! I watch the turtle for a long while. I keep lifting my head to see if there are other snorkelers in the water to whom I can point him out. Nope, no one around. I try to get some photos but it is impossible to see anything on the screen of our underwater camera. As the turtle surfaces for air he is practically right beside me. Got this great photo!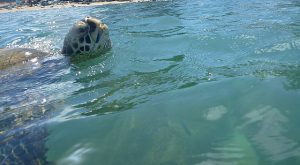 Eventually he swims further out than I want to go so we part ways and I return to shore.
I rinse off at the outdoor shower and jump in the swimming pool to float around a little bit. It was very pleasant but it is time to get out and continue doing nothing…
Back upstairs, Jeff has read that the Maui Brewing Company brewery and restaurant is in this area so we take a walk to see if we can find it. Yup! It is a less than 5 minute walk from our condo. We check out the menu and decide to have dinner here tonight. Last night's dinner, after the Road to Hana, was two bags of microwave popcorn. Tonight we'll treat ourselves.
We relax at home…did a little laundry (by hand since there is no washer/dryer), read and just generally hung out.
Walked over to the brewery for dinner and drinks. I was happy to find out that they make their own root beer and, just for the record, it is not as good as Coopersmith's root beer!
Time for bed…tomorrow we are going to "Turtle Town". That's what Jeff calls it anyway. I'll explain next time.