Saturday, May 26, 2018
Happily hotel checkout is noon so when we finally really wake up at 9:30 we aren't panicked. There is very little to do this morning. We have our hotel room coffee; I ate my apple from yesterday and Jeff has his granola bar. Breakfasts of champions. We put the few things we had taken out of the suitcase back in it, make sure that Pokey and Gumby are ready and we checkout.
Leaving the airport is easy. We walk out to the Super Shuttle stop and ask for a shared ride to the Fort Lauderdale cruise port. Amazingly we are the only ones on the shuttle. Excellent! This is great because I innocently ask the driver if there is a liquor store close to the port to which we can walk. "No, but I will take you to a convenience store that has beer and wine." "Oh, thank you!". Tropical storm Alberto is heading north from the Yucatan Peninsula. The first named storm of the 2018 season and it is raining like crazy, so we're very happy that he is able and willing to do this for us. Jeff hops out of the van and quickly returns with two bottles of wine which we stash in our backpacks. If there had been other passengers on the shuttle, our side stop would not have been possible. Of course, we tipped the driver quite generously.
Since we have just the one suitcase we decide to take it through embarkation with us. We've never done this before but we see other people with the same idea, so we skip dropping our suitcase off with the porter. If we can do this we won't have to wait for our luggage to be delivered later. Success! Not only is there not a problem with our suitcase but no one has noticed or mentioned the small bottle of champagne packed in it or the bottles of wine in our backpacks. This cruise is off to a great start!
We were on this ship, the Caribbean Princess, in 2013, and WOW! it has been updated since then. Very nice.
We drop our bags in our room (breaking more rules because you aren't supposed to go to your cabins until after 1pm), and go to the "World Fresh Marketplace" (formerly known as the Horizon Court), buffet to get something to eat. I had delicious grilled salmon, a lemon quinoa dish and green beans. I also had 6 french fries – couldn't resist. Also irresistible was a small dish of tapioca with mandarin oranges..
Soon everyone is able to go to their staterooms and we go to unpack. We are flummoxed. Normally we book a mini-suite but on this cruise we've opted for a smaller balcony cabin. This cabin has a smaller balcony than a mini-suite; it doesn't have the extra seating area of loveseat, chair and coffee table; and there is no tub in the bathroom. The tub part is important, not for bathing, but for space. The 'shower only' setup makes for a teeny bathroom where, if you drop the soap, you really do have to get out of the shower to have enough room to pick it up!
I said we were flummoxed and that is because in a mini-suite we know exactly where to put stuff. Today we have to make decisions like "which drawer shall we keep the electronics in?" Eventually we figure it all out and its time for a short nap.
3:15 and time for the "Muster", the internationally required safety drill that all passengers must attend before the ship can leave port. Hahaha! Not only has the ship been refurbished and updated, but so has the safety drill. It is now given with Love Boat theme music and safety instruction lyrics. Pretty funny and much less dry that previously. I think people paid better attention, too. What we found interesting during this drill was that passengers weren't to bring their life jackets. Instead, how to wear the life jacket was demonstrated and people were told to practice in their cabins.
The "Sail Away" party which is always held on the uppermost deck has been moved inside because of the wind and rain. Jeff and I opt to skip it and celebrate on our covered balcony. Leaving time is 4p.m.; it comes and goes and we're still moored. The captain announces that they are loading the last of the luggage and waiting for some final paperwork so we'll set sail in 15 minutes. 20 minutes later we're still looking at the same spot on the dock. The captain comes back on to tell us that they are working on an immigration issue, and, also, there has been a medical emergency and a passenger needs to be taken ashore. Finally, though, we are underway. Jeff and I continue our tradition of glasses of champagne when we set sail. Since we snuck the small bottle of champagne in our suitcase we have only water glasses instead of proper champagne flutes in the photo.
We go down to the piazza to people watch and enjoy a chai tea. From 5-7 pm there is a daily "platinum/elite/suite" passenger appetizers and drinks gathering in the ship's topmost lounge. Though neither of us is hungry we go up to schmooze. I'm psyched because today there is guacamole and chips – and their guacamole is really good. Yum! We get plates of vegies: artichoke hearts, olives, celery, carrots, etc.to accompany the guac and sit and chat older couple. Now we've eaten enough that we are not interested in dinner.
Back in the cabin we open our wine, happy that our room steward has brought us proper wine glasses, and go down to the Wheelhouse Bar to listen to a steel drum musician. I'm fascinated by steel drums and have always have enjoyed the sound. The musician, Dennis Smith, is very good but we're both a little disappointed that he is playing to recorded music. It is difficult to distinguish what is him and what is recorded. We stay for about 45 minutes, run back to our cabin on Deck 12 to refill our wine glasses and then dash back down to the Princess Theater to watch the 9:45 comedy act. The comedian had a couple of good lines but that was about it – I'd give him a C. We chose the comedy show because we didn't fancy sitting out in the wind and on again/off again rain to watch a movie on the big screen.
Happily tropical storm Alberto is going north as we are heading south and we'll soon be away from the cloudy weather.
It is 11 p.m. when we get back to our cabin where we are stunned to find a complete mini-bar setup.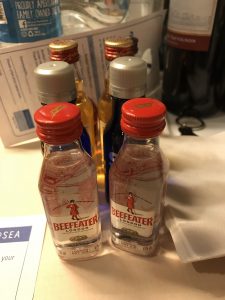 We stare at each other for a couple of minutes. "I didn't order that." "Me neither."
So we read the accompanying card. Apparently somewhere in their system Princess has us down as "elite"members (we aren't, we're platinum). Elite members get a free full minibar setup per cruise. "This cruise just keeps getting better and better!" Jeff says. (Our guess is that Alvin, the room steward, simply made a mistake; so we will be drinking the evidence.)
Check back tomorrow to see if we have any other unexpected surprises!